Would you like to sink your teeth into the best pumpkin muffin you've ever had? I'm talking about the moistest, tastiest, and most satisfying pumpkin muffin ever! These Jumbo Pumpkin Muffins will give any artisan bakery a run for its money because they use real canned pumpkin and the finest ingredients.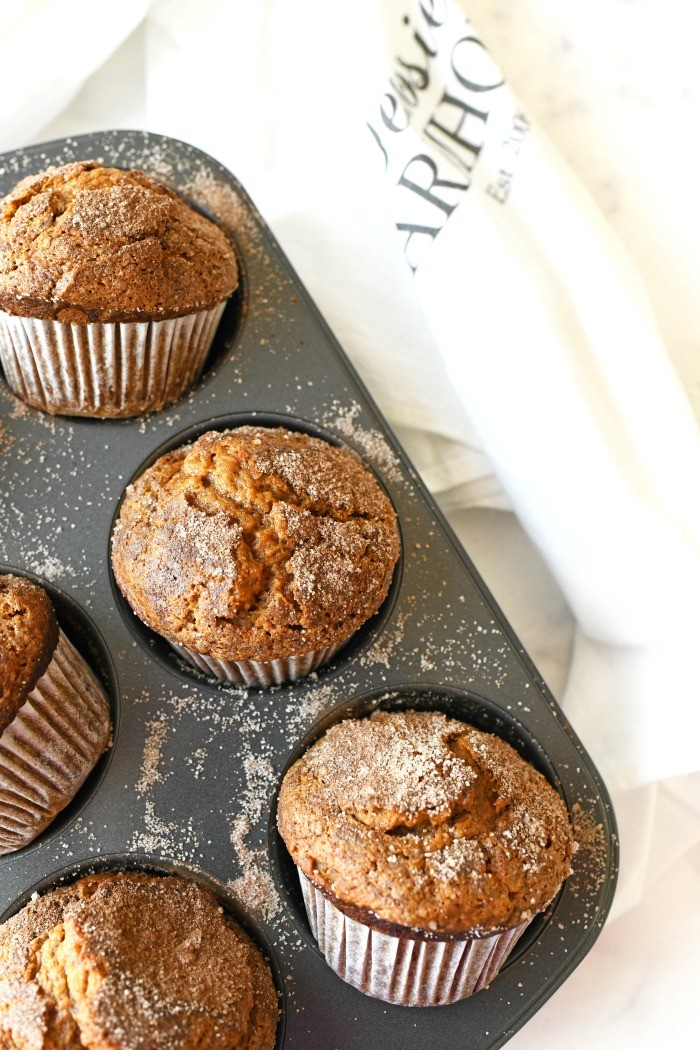 Everyone who has tried these muffins agrees that they really are the best pumpkin muffins ever! You can make 6 jumbo, bakery style muffins, or 12 standard-sized muffins. These are so fool-proof and have the fluffiest insides EVER!!!
Ingredients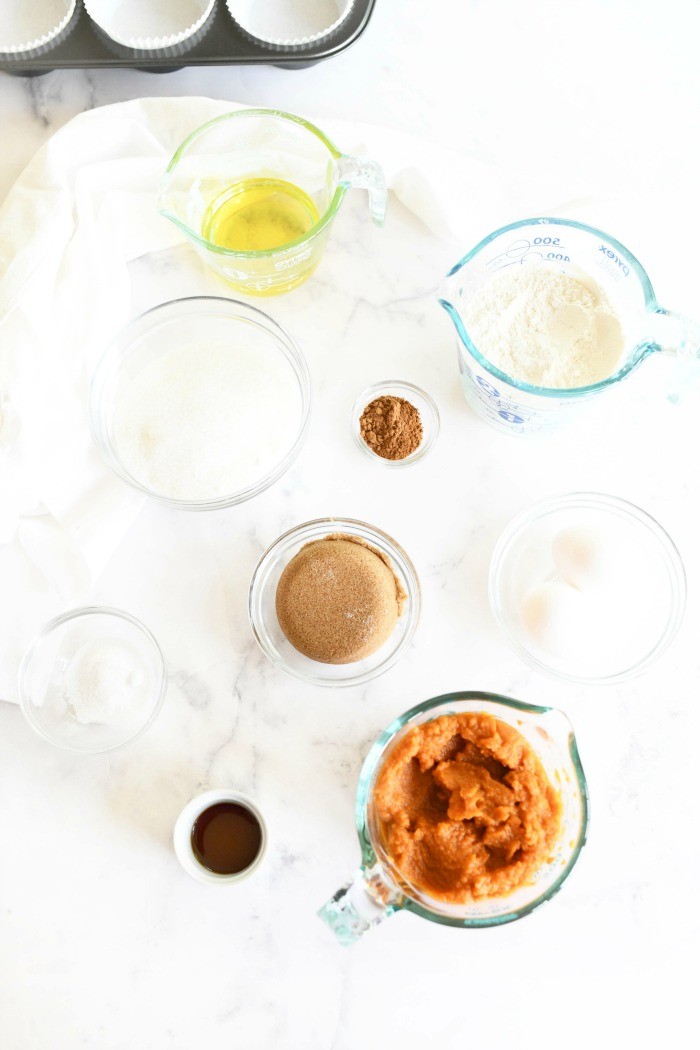 Before starting this recipe, you'll want to verify that you have the following ingredients:
Canned pumpkin - This is the base that will make these pumpkin muffins shine. You want to use pure canned pumpkin (15-ounce can) and not pumpkin pie mix which is much different.
Granulated sugar - Helps to sweeten these muffins and works heavenly in conjunction with the light brown sugar.
Brown sugar - Light brown sugar will also help to sweeten and gives this muffins a nice flavor and helps them retain moisture.
All-purpose flour - This is the flour base you will need. You can also use whole wheat flour, but we prefer the all-purpose, unbleached white flour.
Baking soda- This helps the muffin rise. Be sure to carefully measure out the teaspoon. You will want to also ensure your baking soda is fresh.
Salt - Helps to enhance the flavors of these muffins. A little goes a long way!
Pumpkin Spice - This premixed spice blend has warm notes of cinnamon, clove, ginger, and nutmeg.
Nutmeg - We like to add a little more which amplifies the fall flavors of this perfect pumpkin muffin.
Eggs - binds ingredients, adds structure, moisture, and height to these muffins.
Vanilla extract - This adds a nice flavor to the muffins and is like the cherry on top for perfecting these muffins.
Vegetable oil - Adds moisture to these muffins. You can also use melted, and cooled butter, Greek yogurt, or apple sauce. But, they slightly alter the muffin texture making them a wee bit more dense.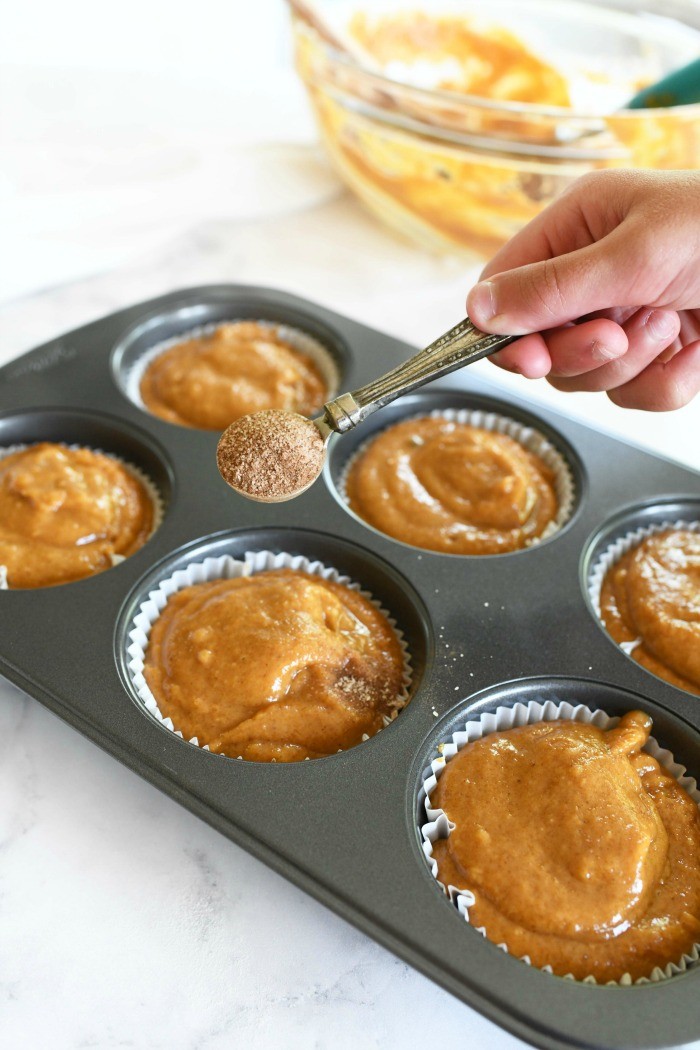 Cinnamon Sugar Topping
Ground cinnamon - adds flavor
Granulated sugar - adds sweetness, and a nice texture to the muffin tops as they bake up and crinkle.
Recipe Tips
This recipe is easy to make if you know the right tips and tricks! Here are my tips for ensuring your Jumbo Pumpkin Muffins come out perfectly.
Muffin Style
We love the size and shape of jumbo muffins so we baked ours in a 6-count jumbo muffin tin. However, this recipe can be baked in standard muffin tins, mini muffin tins, or the deep, fancy muffin tins. Baking times may slightly vary--especially if you use mini muffin tins.
Oil substitutes
This muffin gets its fluffy texture from the vegetable oil. However, you can substitute this ingredient with ½ cup of the following items:
melted, and cooled butter (unsalted)
apple sauce (unsweetened)
Greek yogurt (plain, unsweetened)
Vanilla Greek yogurt (skip the extract if you use this)
Sour cream (full fat variety)
Mix-ins
This pumpkin muffin recipe is a great base for mix-ins. We have confidently tried these mix-ins with great success.
Caramels - Add one caramel square to the center of each muffin before baking. Fill the batter halfway, add a caramel, and then add the rest of the batter. Bake according to the below instructions.
Chocolate Chips - Fold in 1 cup of your favorite chocolate chips to the batter after the last step.
Raisins - If you are a raisin lover like me, you should try these with some raisins--so yummy!
Nuts - Pecans, slivered almonds, or walnuts taste delicious in this recipe! I would add ½ cup of your favorite nuts.
Storage
If you want to store your Jumbo Pumpkin Muffins, just follow these easy steps.
Allow them to fully cool to room temperature. This will take a good 90 minutes since they retain heat well. If you do not allow them to cool fully they will sweat, and lose their crunchy muffin tops.
Place them in a airtight container or wrap them in plastic wrap.
Store them at room temperature for up to 4 days.
Pumpkin muffins don't need to be refrigerated.
Frozen Storage
Pumpkin muffins can be stored frozen for up to 3 months. If you want to freeze your muffins, allow them to cool for at least 90 minutes. Then, wrap them tightly in plastic wrap, use a food storage system, freezer-safe container, or zippered bag to prevent freezer burn. Next, store them inside the freezer where they won't be crushed by other heavy foods.
When you're ready to eat your frozen muffin, you can remove it from the freezer the night before and allow it to defrost at room temperature. Defrosting a jumbo muffin at room temperature could take up to 3 or 4 hours.
Alternatively, you can microwave the frozen muffin to defrost it. Just remove it from the plastic wrap before microwaving.
Microwave on high for about 1 minute, check it, and microwave for additional 30-second intervals until warm and ready to eat!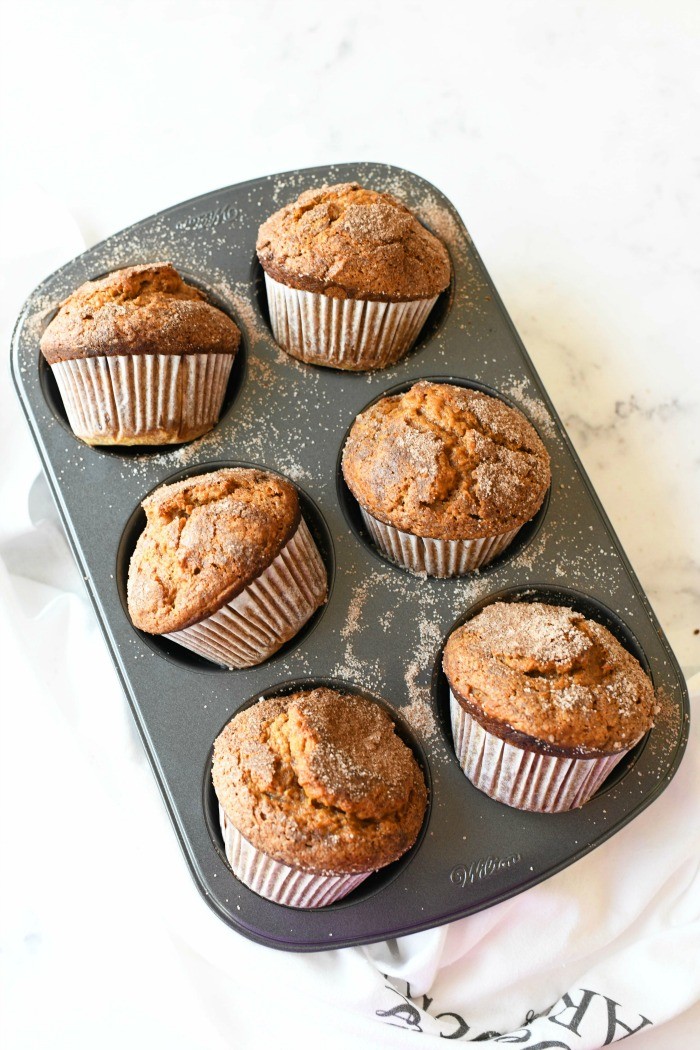 Recipe
Follow the recipe below to make the Best Jumbo Pumpkin Muffins Ever! This recipe makes 6 muffins, but you can adjust the recipe card for other servings.
Recipe
The Best Jumbo Pumpkin Ever!
This recipe makes the best jumbo pumpkin muffins you've ever had! They are exceptionally fluffy, moist, and have the best pumpkin flavor. The cinnamon-sugar top bakes into a crispy heavenly shell. This tasty muffin recipe uses a jumbo muffin tin and makes 6 muffins.
Equipment
6-count jumbo muffin tin (or 12-count standard tin)

oven

mixing bowl

wooden spoon

Whisk
Ingredients
1

cup

granulated sugar

½

cup

brown sugar

1 ¾

cup

all-purpose flour

1

teaspoon

baking soda

⅛

teaspoon

salt

2

teaspoon

pumpkin spice

¼

teaspoon

nutmeg

2

large

eggs

15

ounces

canned pumpkin

1

teaspoon

vanilla extract

½

cup

vegetable oil
Topping
1

teaspoon

ground cinnamon

3

tablespoon

granulated sugar
Instructions
Mix together the 1 teaspoon cinnamon and 3 tablespoon sugar and set aside.

Add jumbo cupcake liners to the 6-count pan

Add dry ingredients to a large bowl and whisk together.

Add all wet ingredients to the dry ingredients and mix until their just combined. Don't overmix or the muffins won't be fluffy!

Scoop the batter into the muffin tin until it almost reaches the top.

Sprinkle the cinnamon and sugar mixture to the top of the batter.

Place in the preheated oven and bake for 25 - 30 minutes.

Check doneness by inserting a toothpick into the center of one muffin at 25 minutes. If it comes out clean, they're done.

Allow the muffins to cool before enjoying.
Notes
Nutritional values may vary and are meant to be a guide.
Nutrition
Serving:
1
muffin
|
Calories:
565
cal
|
Carbohydrates:
92
g
|
Protein:
7
g
|
Fat:
20
g
|
Saturated Fat:
16
g
|
Trans Fat:
1
g
|
Cholesterol:
62
mg
|
Sodium:
82
mg
|
Potassium:
240
mg
|
Fiber:
3
g
|
Sugar:
60
g
|
Vitamin A:
11123
IU
|
Vitamin C:
3
mg
|
Calcium:
57
mg
|
Iron:
3
mg