In this post, we'll show you how to make Mini Pumpkin Pies in a Muffin Tin. This perfectly portioned dessert tastes just like a regular pumpkin pie and is perfect for parties or get-togethers.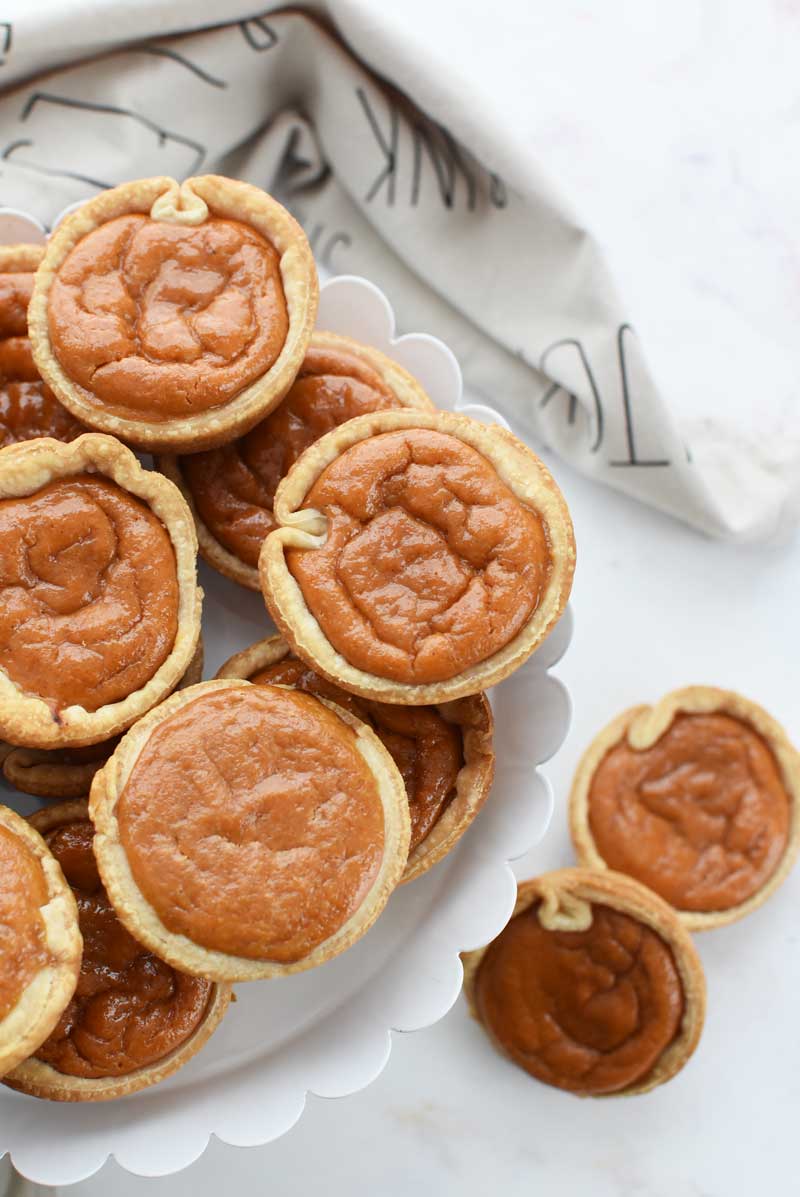 These Mini Pumpkin Muffins are also known as pumpkin tarts. They are perfect for Thanksgiving because they are easy to bake, make, and eat. Serve them with whipped cream or enjoy as is.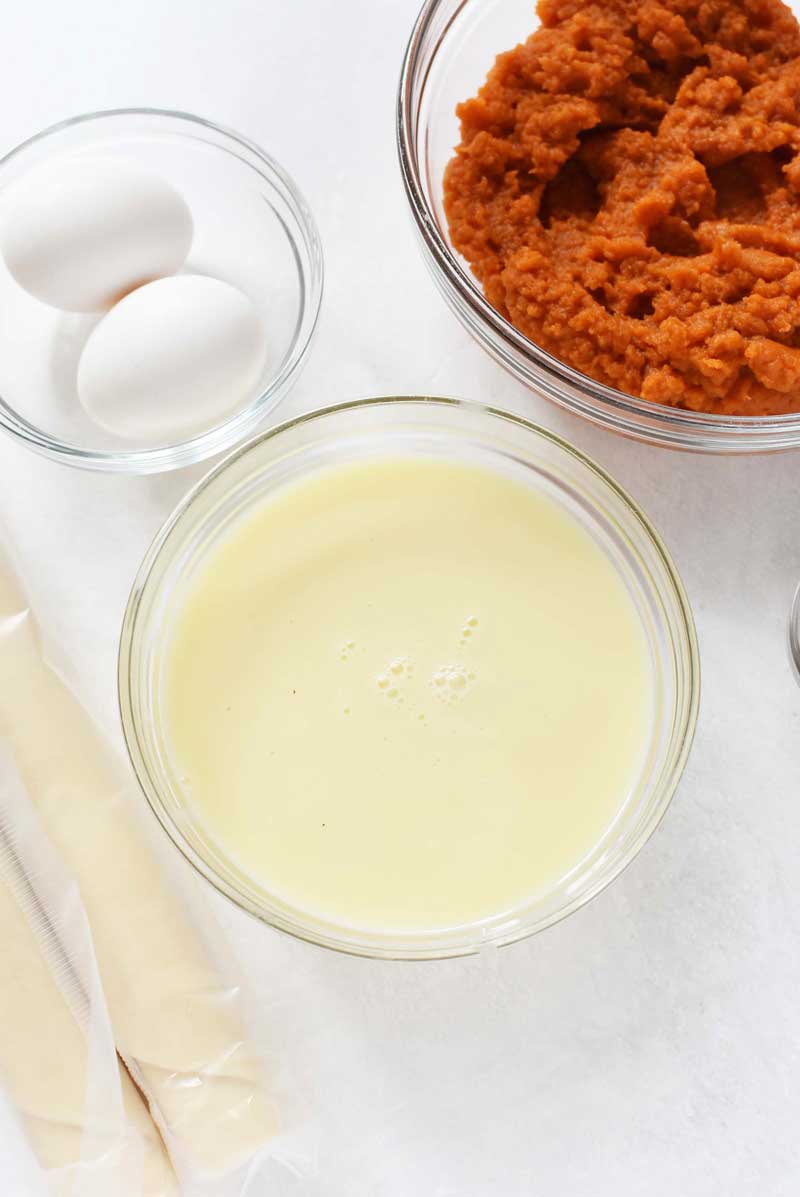 Ingredients
Before starting this recipe, you'll want to verify that you have the following ingredients:
Premade pie dough - We recommend refrigerated pie dough. You will need one box which has 2 rolls of premade, fold out dough typically in a circle shape.
Canned Pumpkin - This recipe uses a 15oz can of pureed pumpkin (not pumpkin pie filling).
Pumpkin Spice - An essential ingredient for most pumpkin based recipes. You can find this at stores like Trader Joes for under $3 per bottle.
Large Eggs - This recipe uses two.
Sweetened, Condensed Milk - You do not need sugar for this recipe because this thick, sweet, creamy milk takes care of that.
Whipped Topping / Cream - You can use homemade whipped cream or use one purchased from the market like Cool Whip.
Equipment and Supplies Needed
We used the following equipment and supplies to make this recipe. Items that are optional or can be substituted will be noted.
18 Count Standard Muffin Tin - If you don't have an 18-count tin, you can use a 12 count and a 6-count.
Conventional Oven - These are baked on the center rack.
Electric Hand Mixer - You can also use a stand mixer if you own one.
Large Mixing Bowl - This is needed to mix the ingredients.
Rolling pin - You'll need this to roll-out the excess dough after cutting out the initial crusts.
Star Piping Tip & Bag - This is needed if you want to add some whipped topping to your pies.
4" Biscuit Cutter or large glass cup rim - You will need this to cut out the mini circle shapes to make your petite pumpkin tarts. Simply press, twist and lift to get your pie dough shape.
Recipe Tips
This recipe is easy to make if you know the right tips and tricks! Here are my tips for ensuring your Muffin Tin Pumpkin Tarts come out perfectly.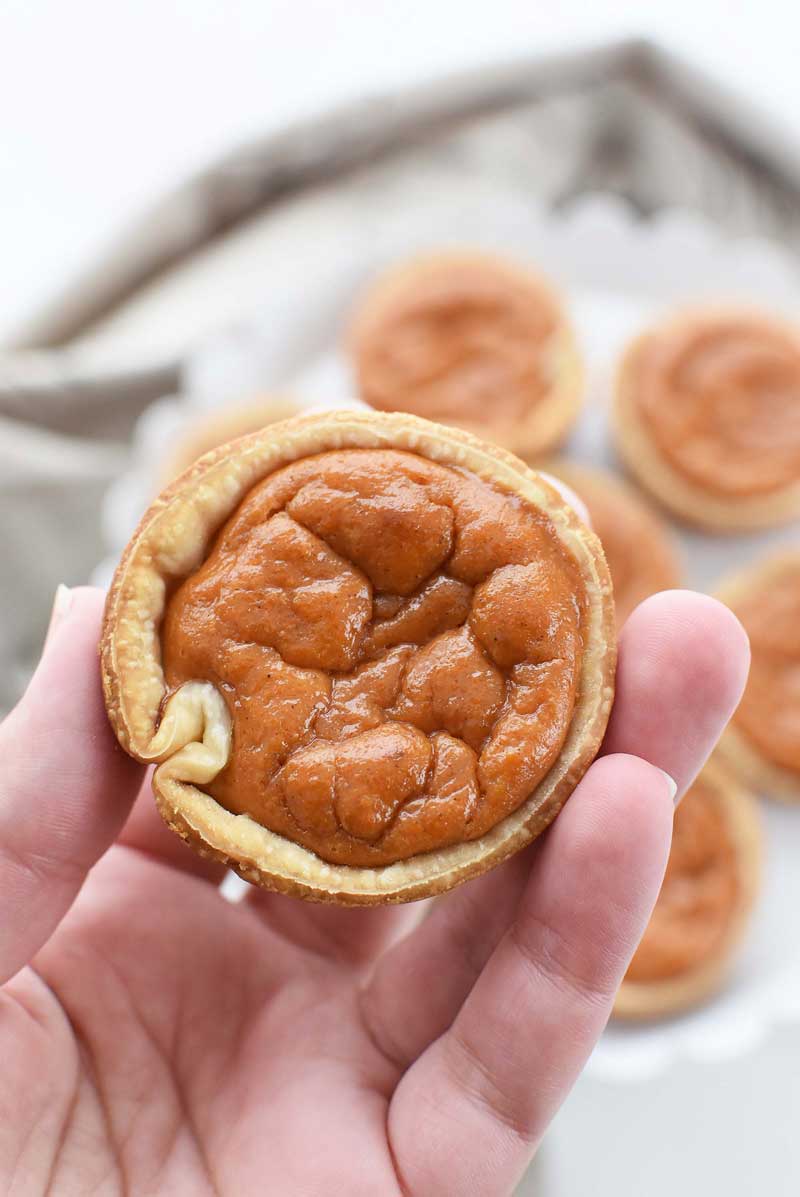 Use Store-Bought Refrigerated Crust
Using refrigerated store-bought premade crust saves a lot of time and tastes just about as good as homemade crust. Make sure you buy refrigerated crust and not frozen crust. You'll need to cut-out the dough to form the mini pie crusts. You don't want to try punching circles out of a frozen sheet of dough!
Cutting the Crust
The pie crust needs to be cut into a circle that's between 3 - 4 inches diameter. If you have a cookie, or biscuit cutter that size, you can use that. If you don't have a cookie cutter, don't worry. You can use a glass or mug that falls within that size to cut-out the crust.
Layout the dough onto a lightly floured surface. This can be a cutting board (recommended) or your countertop.
Simply press the cookie cutter (or open-side of the glass) into the dough until it cuts through.
Cut-out as many circles as you can until you run out of space to cut-out anymore.
Take the remaining dough and roll it up into a ball. Using a rolling pin, roll it out to the same thickness as the dough was initially.
Repeat steps 1 - 4 until you have at least 18 mini pie crusts.
Filling the Pies
When you fill the pie crusts with the pumpkin filling, don't over fill them. They should be filled ¾ of the way full. If you fill them to the top, they will overflow!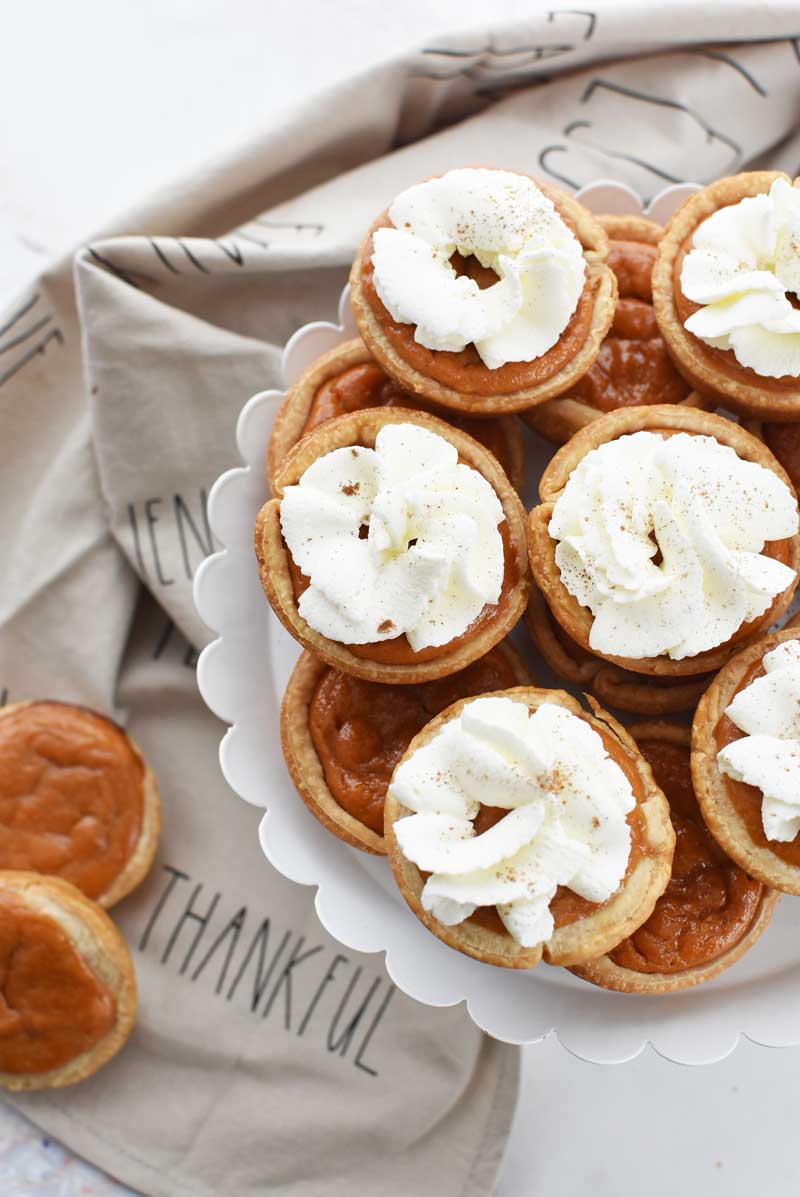 Cool Before Topping
If you choose to add topping to these mini pumpkin pies, you'll need to ensure they're cool before adding it. After removing them from the oven, place them somewhere to cool. These are so good with fresh whipped cream or a topping like Cool-Whip.
Storage
Mini Pumpkin Pies can be left out all day if they aren't topped with real whipped cream. If you're going to top them with real whipped cream, they should be stores in the refrigerator.
Refrigerator
Storing the pies in a refrigerator is simple. Just cover them inside an airtight container and store them for up to 3 days.
The topping should be stored separately and added just before eating. However, you can store them with the topping on them as well. You just might need to deal with it getting smeared or melting a bit.
Frozen
Mini Pumpkin Pies can be stored frozen without topping. Wrap them tightly inside a plastic wrap or place them inside a ziplock freezer bag. Remove as much air as possible.
Store them in the freezer for up to 3 months.
When you're ready to eat them, remove them from the freezer the night before. Place them on your counter and allow them to defrost at room temperature.
Recipe
Follow the recipe below to make Muffin Tin Mini Pumpkin Pies! This recipe makes 18 pies, but you can adjust the recipe card for other serving sizes.
Recipe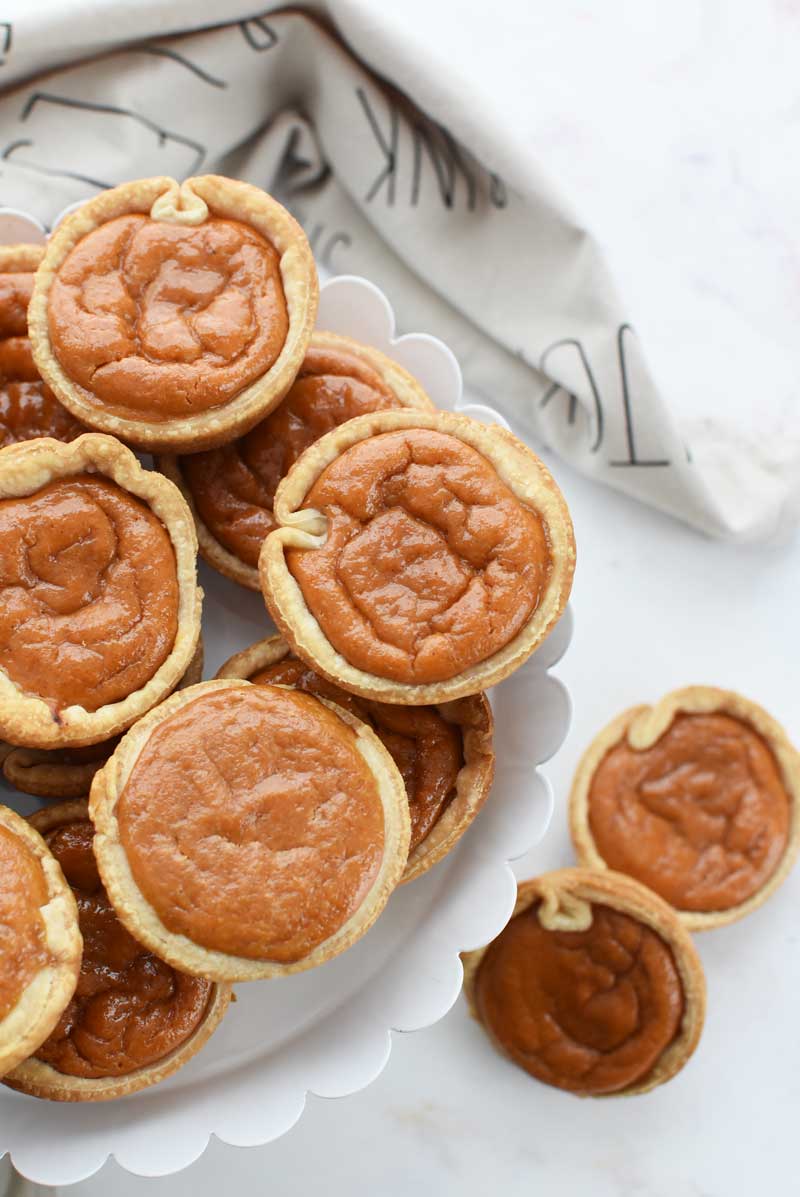 Print
Muffin Tin Pumpkin Pies
Muffin Tin Pumpkin Pies are just like a regular pumpkin pie, but mini! These pies are the portioned perfectly for parties or get-togethers. They're made with real pumpkin and refrigerated pie crust.
Equipment
18-count muffin tin

conventional oven

Electric hand or stand mixer

4-inch diameter cookie/biscuit cutter or glass or mug (doesn't need to be exactly 4-inches)

rolling pin

cutting board

mixing bowl

star tip & piping bag
Ingredients
28

oz

premade pie dough

refrigerated pie dough

15

oz

canned pumpkin

Use pumpkin puree and not pie filling

1

teaspoon

pumpkin spice

2

large

eggs

large

14

ounces

sweetened, condensed milk

2

cups

whipped topping

optional
Instructions
Preheat your oven to 425°F.

Grease the muffin tin with nonstick spray.

Lightly flour the surface you're going to use for cutting out the crust circles. Flour the rim of the cutter as well.

Using a 4" diameter circle glass, or cookie cutter, cut out the pie crust circles.

You will have leftover pie crust that you will need to roll out for the rest of your pies. Combine the leftover dough into a ball. Using a rolling pin, roll it out to the same thickness as the initial dough sheet.

Cut out the remaining crusts using the 4-inch cutter.

Press pie crust circles into the muffin tin wells.

In a large bowl, using a hand mixer, combine the pumpkin, milk, eggs, and spice until creamy.

Pour mixture into each pie crust about ¾ of the way-a little more is ok just as long as you are not meeting the top of the crust.

Place mini pumpkin pies in the oven at 425°F for 15 minutes.

Reduce the oven heat to 350°F. and bake another 20 minutes.

Allow pies to fully cool before optionally topping them.
Notes
Nutritional values may vary and are meant to be a guide.
Baking Tips
Try not to keep opening the oven or your pies will split like some of mine did.
Allow pies to fully cool before adding whipped cream/topping.
Store in the fridge if you use real whipped cream or top with whipped cream as needed.
These store in an airtight container for up to 3 days on the counter or fridge.
Nutrition
Serving:
1
pie
|
Calories:
297
cal
|
Carbohydrates:
36
g
|
Protein:
5
g
|
Fat:
15
g
|
Saturated Fat:
5
g
|
Cholesterol:
26
mg
|
Sodium:
220
mg
|
Potassium:
184
mg
|
Fiber:
2
g
|
Sugar:
14
g
|
Vitamin A:
3765
IU
|
Vitamin C:
2
mg
|
Calcium:
83
mg
|
Iron:
2
mg