Are you looking to put a fun and tasty spin on breakfast? Look no further than these Bacon, Egg, and Cheese Crescent Roll Bites made in a muffin tin. We combine crispy bacon, scrambled eggs, and melted cheese and bake it inside a warm flaky crescent roll.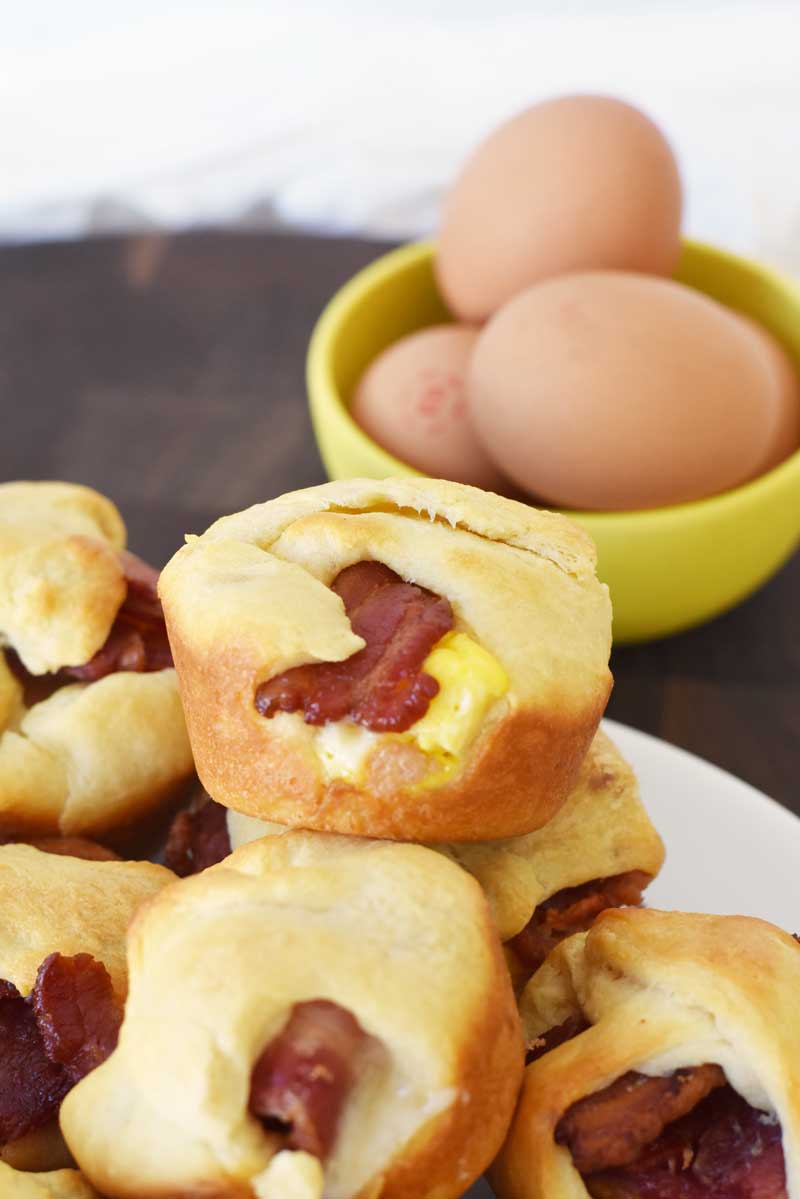 Our Muffin Tin Bacon, Egg, and Cheese Bites are like mini self-contained breakfast sandwiches that fill your mouth with those delicious ingredients with every bite. If you love bacon, egg, and cheese croissants, you'll love these for anytime of day.
Read on to find out how to make this unique muffin tin breakfast!
Ingredients
Before starting this recipe, you'll want to verify that you have the following ingredients:
Bacon - The bacon will need to be cooked first (crispy) before adding to the crescent dough.
Large Eggs - The eggs are scrambled before adding them to the crescent dough.
Shredded Cheese - You can use whatever variety of cheese you prefer. We recommend cheddar or Monterey Jack. Also, cubes can be used instead of shredded.
8-ounce Crescent Roll Dough - This is equal to 1 tube. We swear by the Pillsbury brand because it is consistent, and reliable for baking. If you want your bites to be slightly larger, you can use the 12-ounce Pillsbury Grands! Crescent Rolls.
Equipment and Supplies Needed
We used the following equipment and supplies to make this recipe. Items that are optional or can be substituted will be noted.
muffin tin - your bites will bake in a standard-sized muffin tin.
conventional oven - to bake these bites on the center rack.
microwave - to cook bacon. You can use your preferred method.
stove - to cook eggs/bacon
plastic knife - to remove the bites from the muffin tin.
microwave-safe plate - to cook bacon.
small skillet - to cook scrambled eggs.
mini spatula - for cooking eggs.
Recipe Tips
This recipe is easy to make if you know the right tips and tricks! Here are my tips for ensuring your Muffin Tin Bacon, Egg, and Cheese Bites come out perfectly:
Precook the Scrambled Eggs
The eggs and bacon need to be pre-cooked. The eggs must be scrambled until just-done, so they don't overcook in the oven. Spray a mini skillet with nonstick spray, and ass your scrambled eggs to the pan. Cook over low-medium heat using a rubber spatula to stir. Eggs will be just formed, moist, fluffy, and light yellow in color. Remove from heat and set them aside.
How to Cook Bacon in the Microwave
When in a pinch, a microwave works well to cook bacon. Simply line a microwave-safe dish (we like to use an 8" x 8" Pyrex) with 2 paper towels on the bottom. Add your bacon in a single layer, and make an additional layer of 2 paper towels, followed by another single layer of bacon.
Cover the dish with another 2 paper towels and microwave for one minute per slice on the high setting. Since microwaves vary, I recommend checking the bacon at the 6 minute-mark and after each additional minute to gauge doneness.
When it is done, bacon should crisp- keep an eye on it. Once ready, carefully remove dish with oven mitts from the microwave, and allow bacon and towels to cool before patting dry any excess grease. Times may vary due to microwave styles, bacon type, and thickness.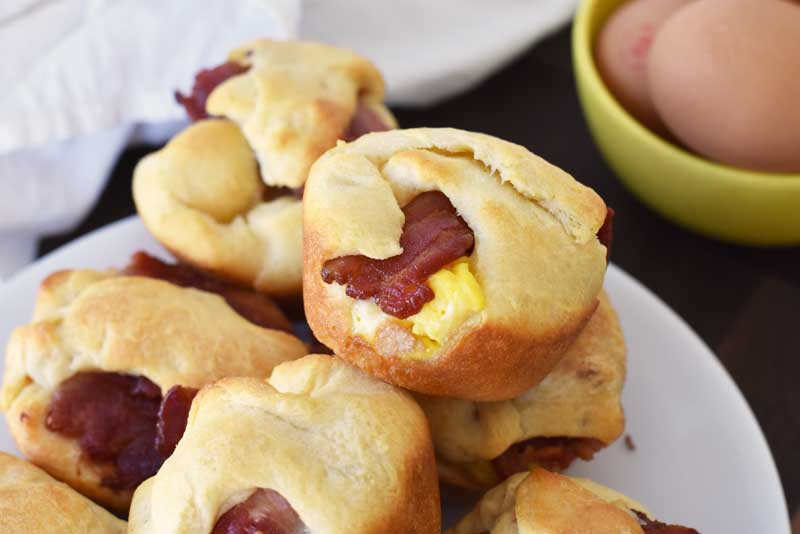 Serving size of crescent roll dough roll.
This recipe makes 8 servings because 1 roll of crescent dough has 8 triangles of dough in it. We use a full triangle for each handheld bite.
Eat warm
This recipe is best consumed when warm out of the oven. They can be eaten fully cool or reheated, but are best fresh and warm.
Storage
If you want to make these ahead or store leftovers, just follow these easy steps.
Wait for the breakfast bites to fully cool.
Wrap them tightly to remove all air (individually is best) in plastic wrap.
Store in the freezer for up to 2 months or in the refrigerator for up to 5 days.
How to Reheat
You can reheat breakfast bites in the microwave or oven. For the oven, simply add bites to a baking sheet and bake for 3 minutes at 350 degrees F to crisp them up.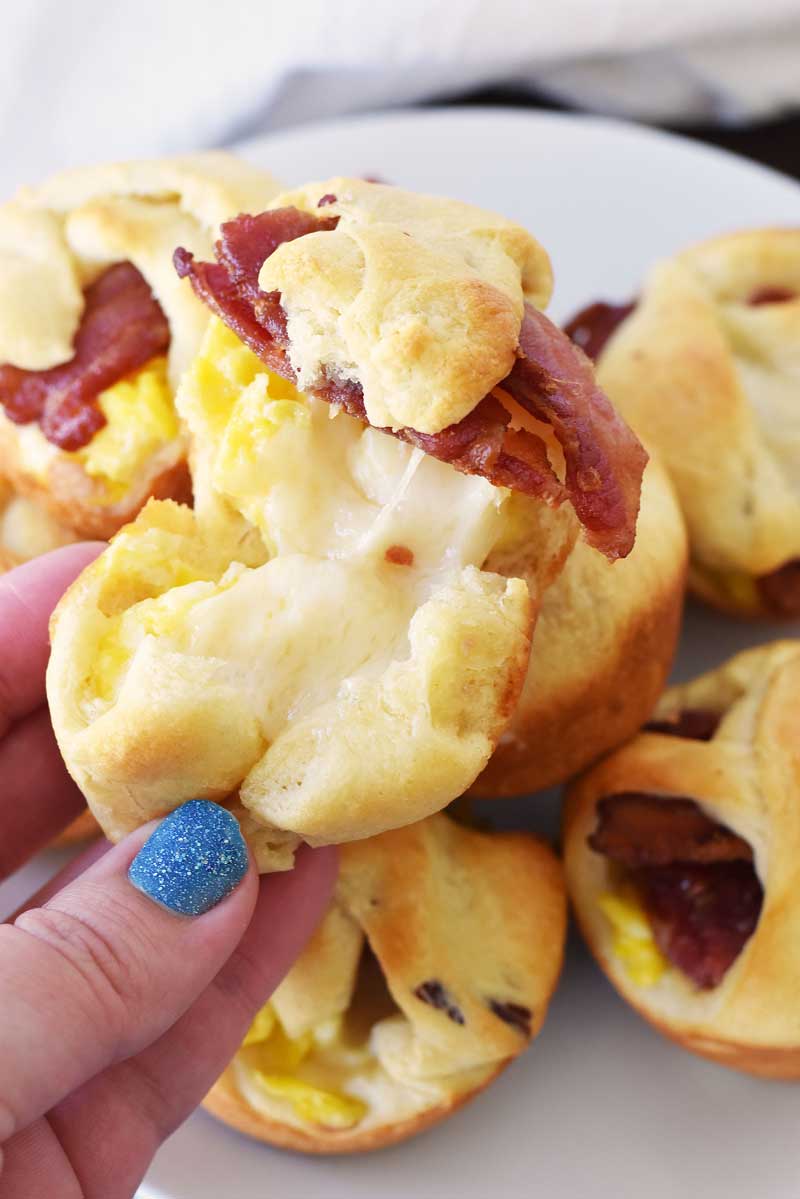 Recipe
Follow the recipe below to make Muffin Tin Bacon, Egg, and Cheese Breakfast Bites! This recipe makes 8 servings.
Recipe
Bacon, Egg, and Cheese Breakfast Bites
Bacon, Egg, and Cheese Breakfast Bites are an easy to make, breakfast idea made with crescent dough in a muffin tin. Our bites are the perfect combination of bacon, egg, and cheese wrapped up in a crescent dough pocket.
Servings
8
Breakfast Bite
Ingredients
8

bacon strips

cooked until crispy

3

large eggs

scrambled

¼

cup

shredded cheese

you can use cubes if you prefer

8

oz

crescent roll dough

1 tube
Instructions
Preheat your oven to 375°F.

Lightly scramble the 3 eggs while the oven is preheating.

Cook bacon strips until crispy.

Spray the muffin tin with nonstick spray.

Open the crescent dough tube and unravel 8 triangles of dough.

Place each crescent dough triangle over a muffin cavity and lightly push down the center to make a "pocket".

Add pieces of bacon, a tablespoon of eggs, and a sprinkle (or cube) of cheese to each pocket.

Wrap the tips of the dough over the top of the pockets to close them.

Place inside oven and bake for 11-12 minutes until golden brown.

Remove from the oven and allow to cool before enjoying.
Notes
When precooking the scrambled eggs, only cook them until they're no longer runny. This will avoid overcooking them during baking.
Cubed cheese melts better than shredded cheese.
Nutrition facts may vary and are for informational purposes only.
Nutrition