In this post, we will show you how to recreate our Easy Salisbury Steak dinner. Tender, seasoned Salisbury Steak hamburger patties are oven-baked in a muffin tin and served with homemade mushroom gravy. This meal is so easy to make, and cuts the traditional cooking time in half because they're mini, and do not need to stew!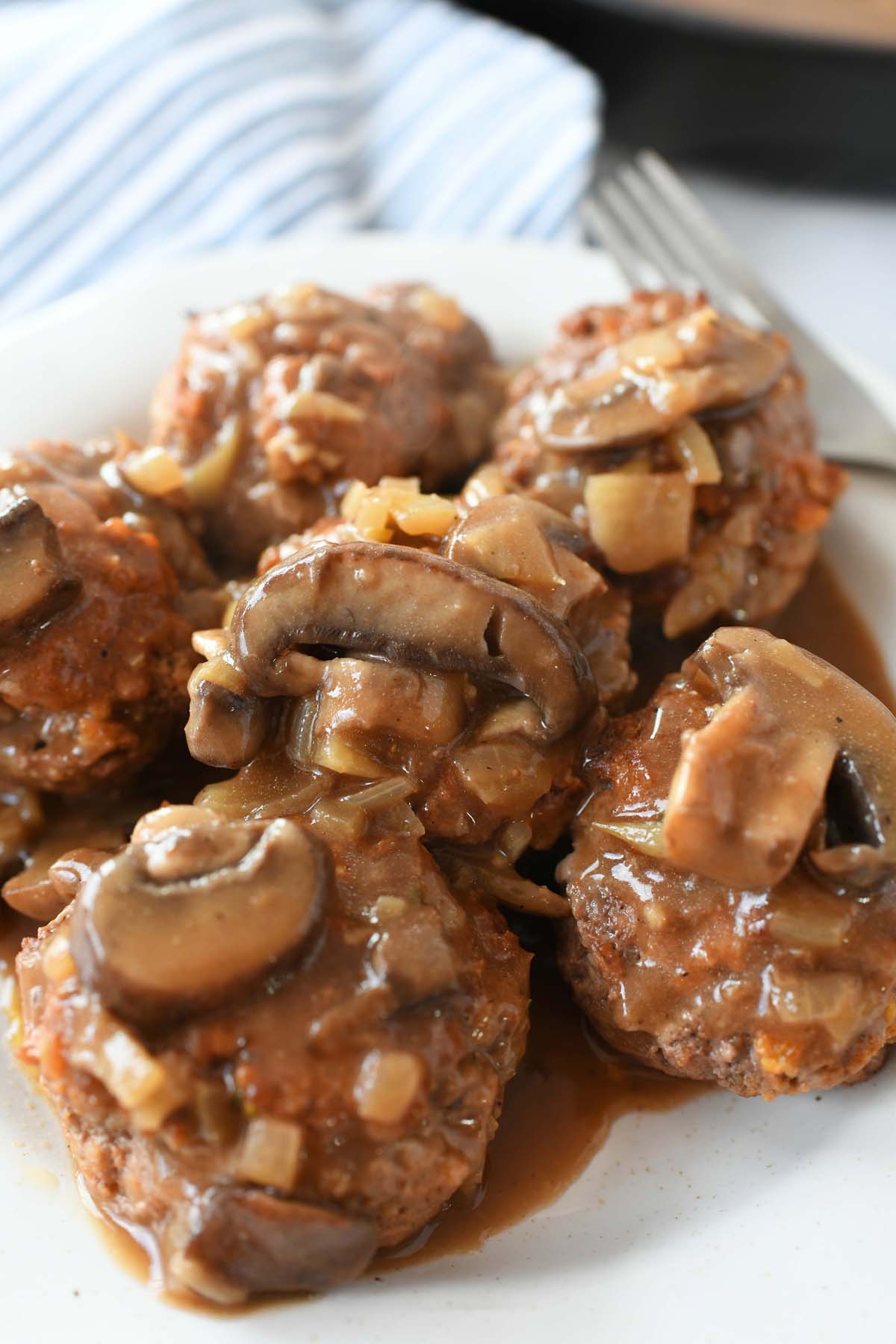 If you love Salisbury Steak, you have got to try baking the ground beef patties in a muffin pan/tin. After making homemade mini meatloaves in a muffin tin, I had the idea that I should try making mini hamburger patties this way. It is way less messy than frying them on the stovetop and produces tender patties you can serve with gravy, over mashed potatoes or rice.
Ingredients
Before starting this recipe, you'll want to verify that you have the following ingredients: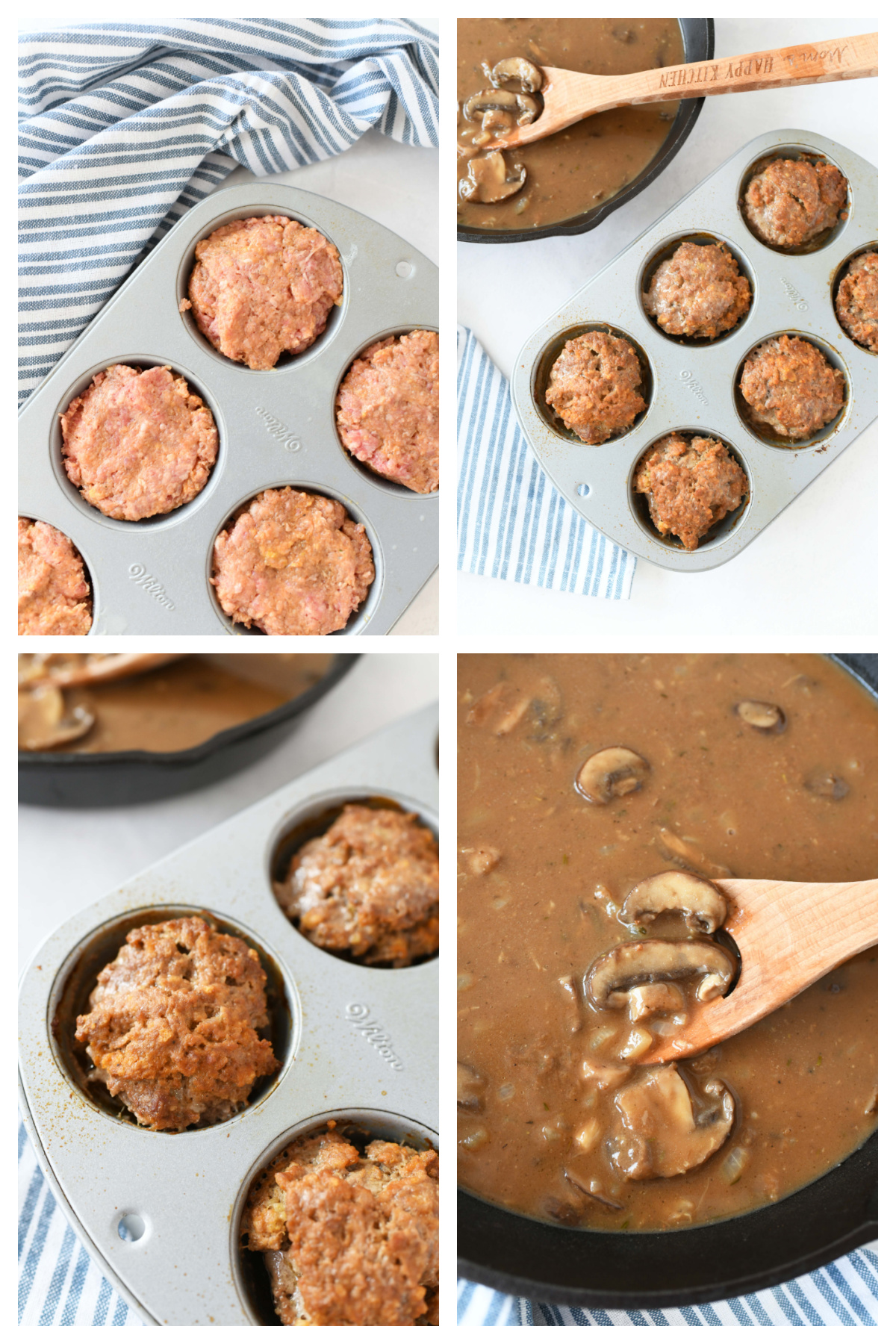 Steak patties
Ground beef - We love using 80/20 because it has a good fat ratio and bakes up tender in a muffin tin.
Egg - One egg helps to bind the ingredients allowing for the steak patty to form.
Ketchup - Provides flavors and adds moisture to the patty.
Mustard - Yellow mustard provides a delicious flavor to the patty.
Worcestershire sauce - Adds a lovely tang and flavor to the patty.
Bread Crumbs - We used unseasoned panko bread crumbs for flavor and texture.
Minced onion - You can use 2 tablespoons of freshly minced onion or dry onion to add flavor.
Dry Spices - black pepper, salt, onion powder, and garlic powder add a nice depth of flavor to the meat.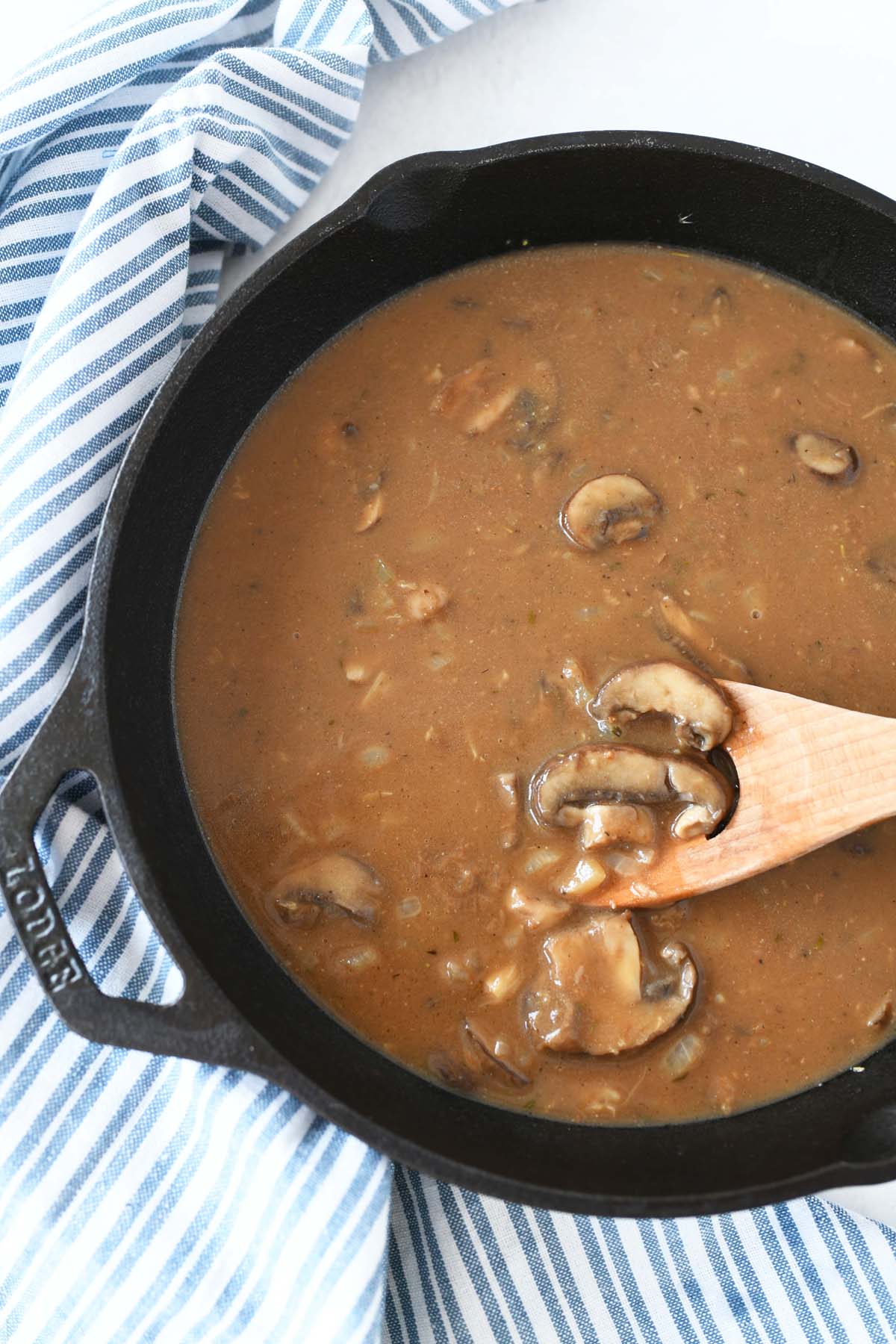 Mushroom Gravy
Better than Bouillon Beef Base - This is hands down the best way to make your stock for the gravy. This product delivers the most flavorful base ever! You mix the paste with water to make 2 cups of broth. I added an extra ½ teaspoon to strengthen it a bit more.
Mushrooms - 16 ounces of sliced mushrooms of your choice.
Onion - One medium-sized onion, diced will help flavor your gravy to perfection.
Garlic - 3 small cloves will add a vibrant POP to your gravy. I use a garlic press to extract all the precious oils.
Balsamic Vinegar - 2 tablespoons adds a delicious depth of flavor and a tiny bit of sweetness.
Flour - This is used to thicken the gravy base. We used the all-purpose variety.
Butter - 6 tablespoons are needed in total for this gravy. You will need 2 tablespoons to sauté the veggies, and 4 tablespoons when it is time to thicken the gravy.
Spices - black pepper, sea salt, and dried thyme add the right amount of flavor and flair for your gravy.
Equipment and Supplies Needed
We used the following equipment and supplies to make this recipe. Items that are optional or can be substituted will be noted.
12-count silicone muffin pan, or metal muffin tin - To bake the meat patties.
large mixing bowl - to combine the patty ingredients.
garlic press - to extract the lovely oils and flavor from the garlic cloves.
ice cream scoop - to scoop the meat into the muffin tin.
large skillet (with a cover) - to sauté veggies and make gravy.
measuring cup & spoons - to measure water & beef base, flour, and vinegar.
whisk - to mix the gravy.
cutting board - to chop veggies
knife - to cut veggies.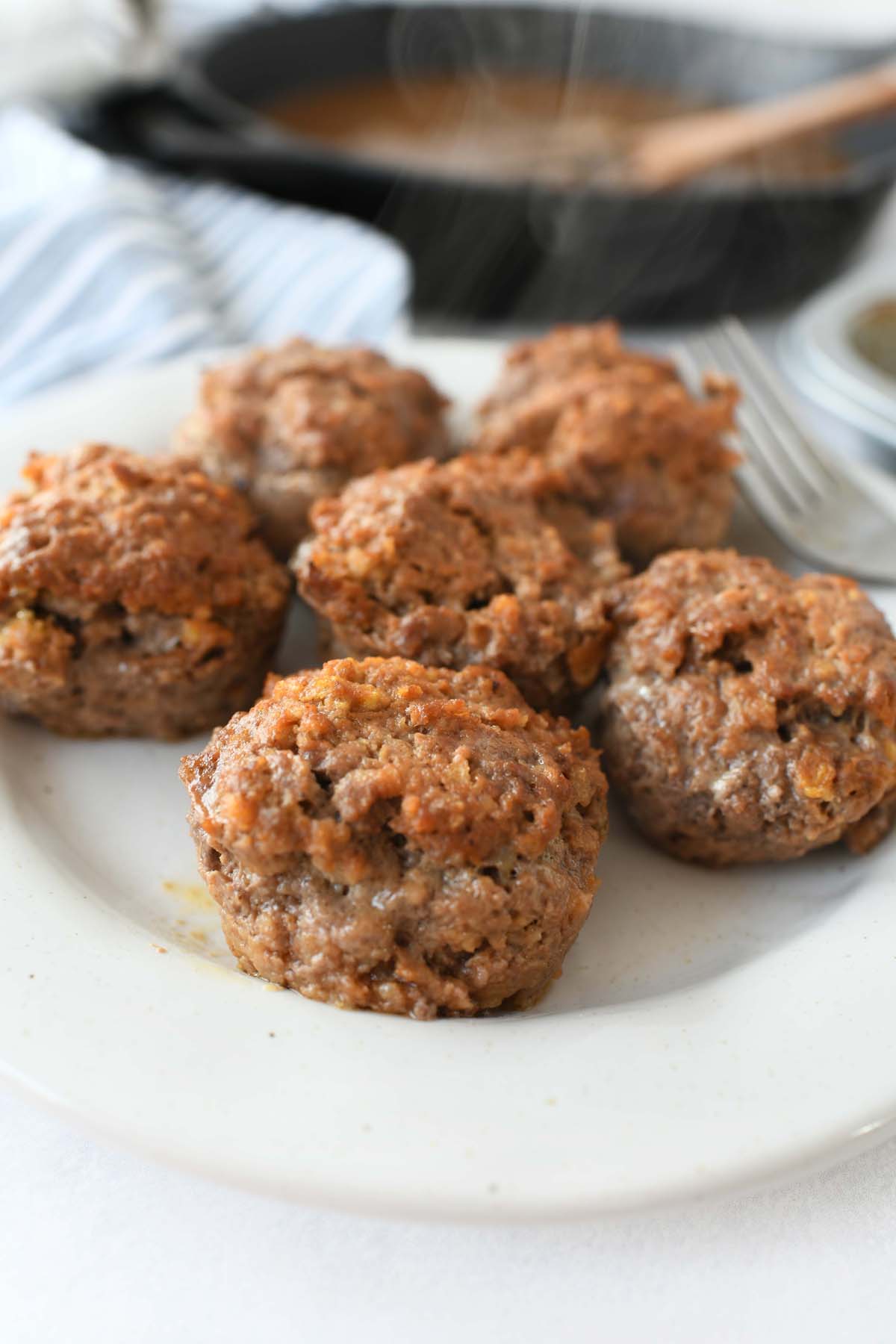 Recipe Tips
This recipe is easy to make if you know the right tips and tricks! Here are my tips for ensuring your Salisbury Steak comes out perfectly.
Making the Gravy Base
While we love Better than Bouillon Beef base, you can use any beef broth you might prefer. However, it is recommended that you use a stronger base versus one that is watered down. You really want the beef flavor to pull through for this gravy.
We also find that using beef drippings to sauté your veggies can add more depth of flavor and enhance the beef taste.
Best Mushrooms for the Gravy
What are the best mushrooms for gravy you wonder? Great question! White, Baby Bella, Shiitake, Wild mushrooms, and brown mushrooms work well. Just be sure you slice whichever variety you are using.
Breadcrumbs
I prefer to use plain, unseasoned bread crumbs in my steak patties. I had 1 cup of panko bread crumbs to use up in my pantry. However, I normally prefer to use freshly made bread crumbs from stale bread ends. These give my patties the flavor, and texture we love.
Mustard
Yellow mustard is what I typically use in my recipe. However, you can use Dijon mustard if that is what you have on-hand, or prefer.
Storage
If you want to store your Mini Salisbury Steaks, just follow these easy steps.
Storing them in the Refrigerator
Store fully cooked Salisbury steaks in an airtight container (once fully cooled) and refrigerate for up to 4 days for best taste.
Storing Cooked Patties in the Freezer
Remove patties from the muffin pan, and line them on a wax paper-lined baking sheet. Freeze for 4-6 hours until frozen, and then tightly wrap each one. Store them in an airtight container or zippered bag for up to 3 months.
To reheat from frozen, thaw in the refrigerator until no longer frozen. Heat (uncovered) in the microwave for 1 minute per patty.
Freezing Raw Salisbury Steak Patties
You can prep the raw Salisbury steak patties ahead of time and freeze them for a later date. Just follow these easy steps:
Use an ice cream scooper to scoop out portions of steak patties.
Arrange on a wax paper-lined pan, cover with plastic wrap to prevent cross-contamination.
Freeze for 4-6 hours or until frozen.
Once frozen, wrap each patty tightly and store them in an airtight bag for up to 30 days to prevent freezer burn.
Baking Frozen Raw Patties
When ready to bake, place patty portions in your muffin tin and bake for 40 minutes or until the internal temperature reaches 160 degrees Fahrenheit.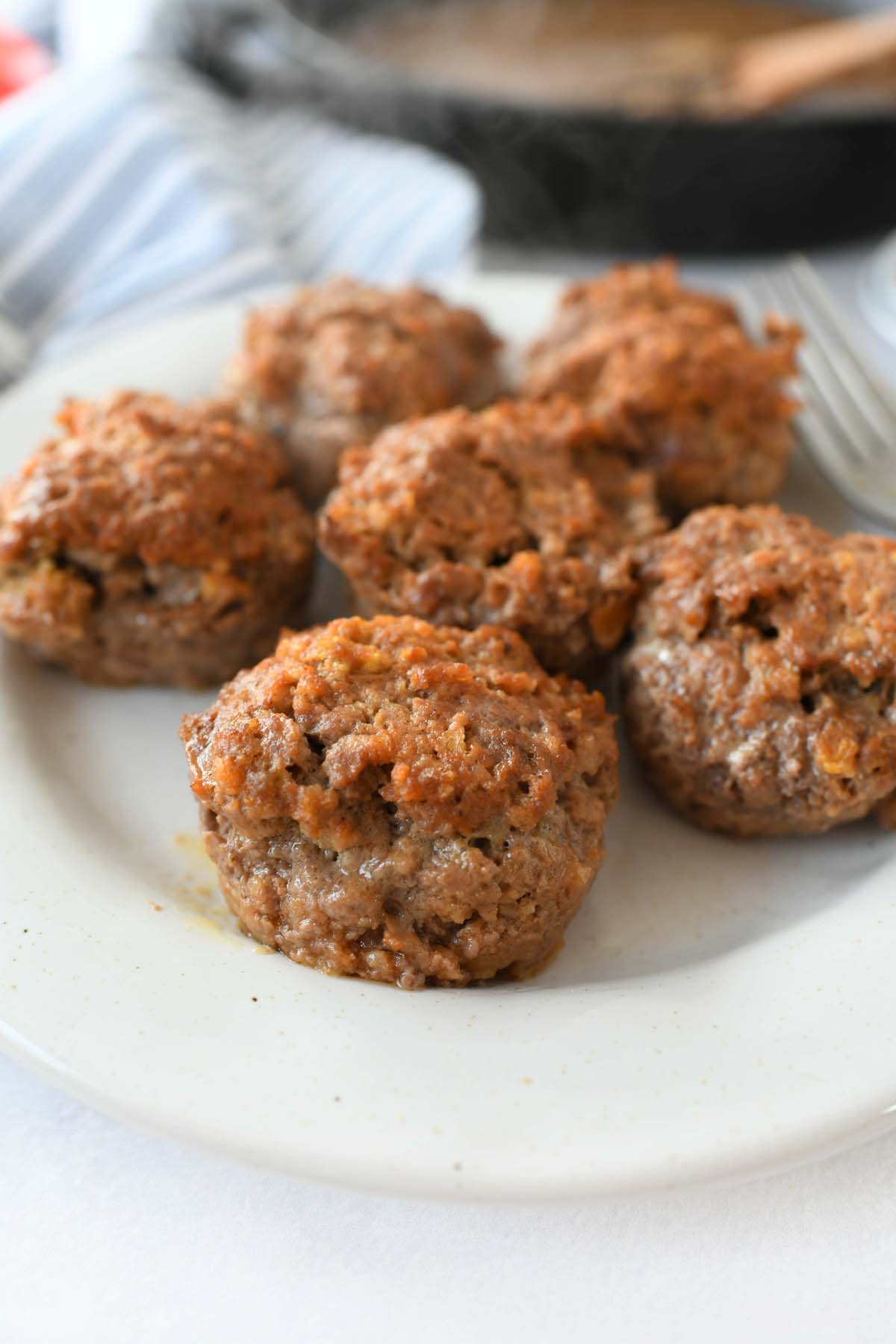 Recipe
Follow the recipe below to make Salisbury Steak! This recipe makes 12 patties, but you can adjust the recipe card for other serving sizes.
Recipe
Mini Salisbury Steaks in a Muffin Tin
Tender, seasoned Salisbury Steak patties are baked in a muffin tin and served with homemade mushroom gravy. This meal is so easy to make, and cuts the traditional cooking time in half!
Equipment
conventional oven

Silicone 12-count muffin pan

large mixing bowl

wooden spoon

Food-safe gloves

ice cream scoop

garlic press

large skillet (with a cover)

measuring cup & spoons

Whisk

cutting board

knife
Ingredients
Salisbury Steak Patties
1 ½

pounds

80/20 ground beef

1

large

egg

¼

cup

yellow mustard

½

cup

ketchup

2

tablespoons

Worcestershire sauce

1

cup

panko bread crumbs

2

tablespoons

minced onion

¼

teaspoon

black pepper

¼

teaspoon

sea salt

½

teaspoon

onion powder

½

teaspoon

garlic powder
Gravy
6

tablespoons

butter

divided

1

yellow onion

diced

3

cloves

garlic

16

ounces

brown mushrooms

sliced

4

tablespoons

all-purpose flour

2

cups

beef broth

*We love using Better than Bullion beef base paste. Add an extra ½ teaspoon to the water.

2

tablespoons

balsamic vinegar

½

teaspoon

salt

½

teaspoon

dried thyme

¼

teaspoon

black pepper

½

teaspoon

onion powder
Instructions
Salisbury Steak Patties
Add meat, and every ingredient listed to a large mixing bowl. Using gloved hands, combine until mixed.

Using an ice cream scoop, add meat to each muffin tin space. *see image in post.

Bake uncovered for 25 minutes.

Allow meat patties to rest for 5 minutes before removing them from the pan. Allow excess grease to cool before discarding in the trash.

Serve warm with your choice of sides. Enjoy!
Brown Mushroom Gravy
In a large, deep walled skillet add butter and melt over medium heat. Add in diced onions, and cook for about 3 minutes or until onions begin to brown. Add in pressed garlic and cook for an additional minute.

Add in sliced mushrooms and cook for about 7 minutes or until most of the liquid from the mushrooms has evaporated.

Add in remaining 4 tablespoons of butter to the veggie mixture. Stir in flour and continuously mix until combined, and thick.

Pour in prepared beef broth, vinegar, and spices. Whisk continuously until gravy starts to thicken. This gravy is not super thick but also not too thin. Cover skillet with a lid, and simmer for 5 minutes stirring occasionally. Add in beef patties, and simmer for an additional 5 minutes. (optional)

Serve over rice or mashed potatoes. If you prefer not to simmer the meat in the gravy, you can serve the gravy over the steak and potatoes/rice.
Notes
Nutritional values may vary and are meant to be a guide.
Nutrition
Serving:
1
cup
|
Calories:
159
cal
|
Carbohydrates:
7
g
|
Protein:
14
g
|
Fat:
9
g
|
Saturated Fat:
3
g
|
Trans Fat:
1
g
|
Cholesterol:
55
mg
|
Sodium:
308
mg
|
Potassium:
80
mg
|
Fiber:
1
g
|
Sugar:
3
g
|
Vitamin A:
80
IU
|
Vitamin C:
1
mg
|
Calcium:
20
mg
|
Iron:
2
mg