In this post, we'll show you how to make Muffin Tin Meatloaf. These perfectly portioned meatloaves are made with a blend of meat, pantry spices, and easy to find ingredients. Ready in 40 minutes from start to finish, your final meal will be a hit!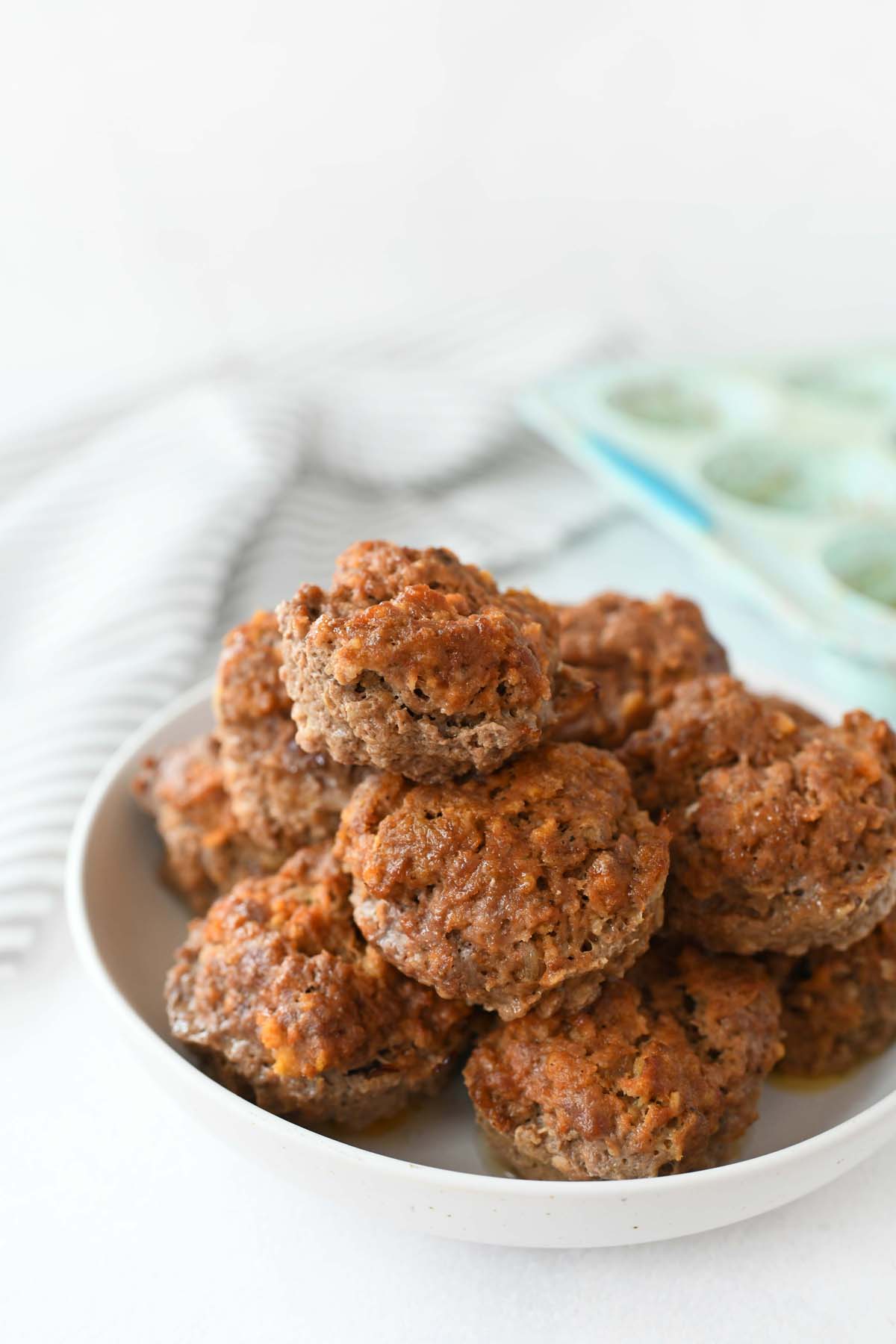 Are you looking to freeze meatloaf? Perhaps you are trying to plan ahead freezer meals? If so, these mini meatloaves are the perfect size to pop thaw, heat, and eat! This recipe makes 12 meatloaf cups, but you can easily make more by doubling the ingredients.
Our kids loved the size of these, and ate 2 each! We found them to be perfectly smaller versions of our favorite comfort dish. The final result was a moist mini meatloaf that paired well with gravy, mashed potatoes, and a veggie.
🥘 Ingredients
Before starting this recipe, you'll want to verify that you have the following ingredients:
Meatloaf Mix - A blend of pork, veal, and ground beef. Provides a better texture, flavor, and moistness to the loaf. Find it in the meat section of your local market.
Egg - One egg helps to bind the ingredients allowing for the meatloaf to form.
Ketchup - Provides flavors and adds moisture to the loaf.
Mustard - Yellow mustard provides a delicious flavor to the loaf.
Worcestershire sauce - Adds a lovely tang and flavor to the loaf.
Bread Crumbs - We used unseasoned panko bread crumbs for flavor, and texture.
Minced onion - You can use 2 tablespoons of freshly minced onion or dry onion to add flavor.
Dry Spices - black pepper, salt, onion powder, and garlic powder add a nice depth of flavor to the meat.
🍽 Equipment and Supplies Needed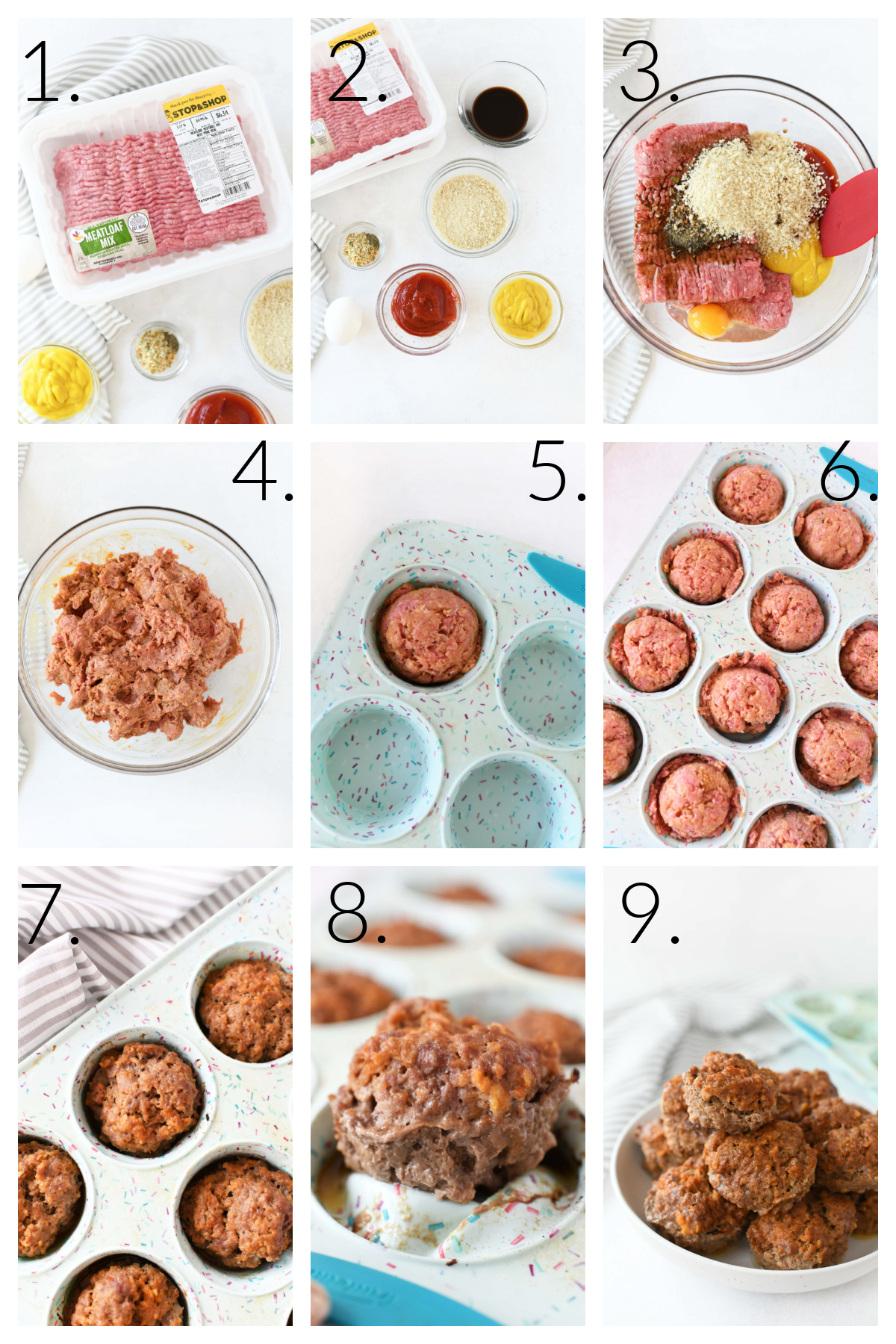 We used the following equipment and supplies to make this recipe. Items that are optional or can be substituted will be noted.
Silicone 12-count muffin pan - You can use a regular muffin tin, but silicone muffin tins make popping out your food much easier.
Large mixing bowl - Use this to mix your raw meatloaf.
Wooden spoon - Can be used to mix your meatloaf.
Food-safe gloves - We prefer these or clean hands to mix the meatloaf mixture.
Ice cream scoop - Forms the perfect scoop of meat into the silicone muffin pan.
Conventional Oven
💭 Recipe Tips
This recipe is easy to make if you know the right tips and tricks! Here are my tips for ensuring your Mini Meatloaves come out perfectly.
🥩 Meat
I purchased meatloaf ground meat mix at my local market. It was on sale in the fresh meat department. This meatloaf mix is sold in roughly 1.25 pound packages and is made of beef, veal, and pork.
However, this might not always be an option and that is okay! 80/20 ground beef is what we typically use to make this meal. Please note that you will get a slightly firmer loaf with the just using ground beef. In this case, add ¼ cup of milk to your mixture before forming.
🍞 Breadcrumbs
I prefer to use plain, unseasoned bread crumbs in my meatloaf. I had 1 cup of panko bread crumbs to use up in my pantry. However, I normally prefer to use freshly made bread crumbs from stale bread ends. These give my loaf the flavor, and texture we love.
Mustard
Yellow mustard is what I typically use in my meatloaf recipe. However, you can use Dijon mustard if that is what you have on-hand.
🧀 Cheese
Want an even moister meatloaf muffin? Add a cube of cheddar, pepper jack, or swiss to the center of the loaf (form the meat around it). Your meatloaf will be cheesy and even more flavorful.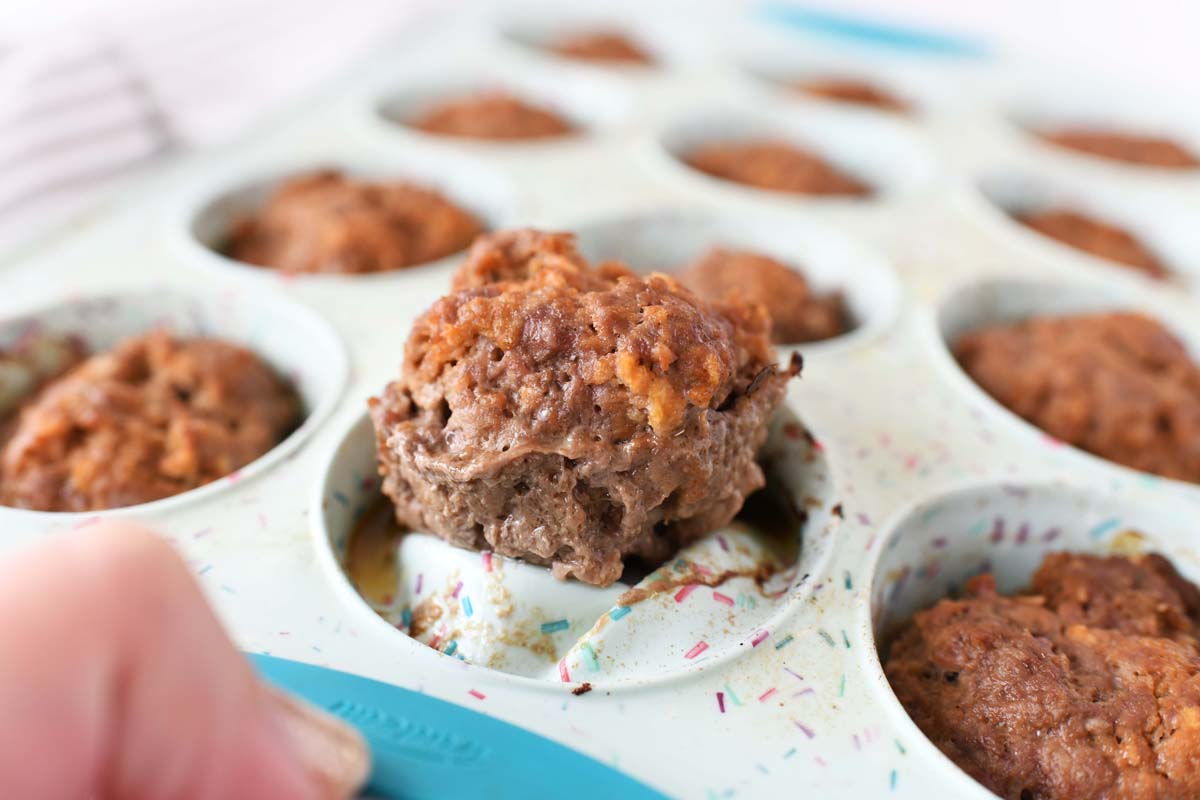 Storage
If you want to store Muffin Tin Meatloaf, just follow these easy steps.
Refrigerator Storage
Store fully cooked meatloaf portions in an airtight container (once fully cooled) and refrigerate for up to 4 days for best taste.
Freezing Cooked Meatloaf
Remove meatloaf from the muffin pan, and line them on a wax paper-lined baking sheet. Freeze for 4-6 hours until frozen, and then tightly wrap each one. Store them in an airtight container or zippered bag for up to 3 months.
To enjoy, thaw in the refrigerator until no longer frozen. Heat (uncovered) in the microwave for 1 minute per meatloaf.
Freezing Raw Meatloaf
Use an ice cream scooper to scoop out portions of meatloaf. Arrange meatloaves on a wax paper-lined pan, cover with plastic wrap to prevent cross-contamination, and freeze for 4-6 hours or until frozen. Once frozen, wrap each meatloaf tightly and store them in an airtight bag for up to 30 days to prevent freezer burn.
Baking from Raw
When ready to bake, place meatloaf portions in your muffin tin and bake for 40 minutes or until the internal temperature reaches 160 degrees Fahrenheit.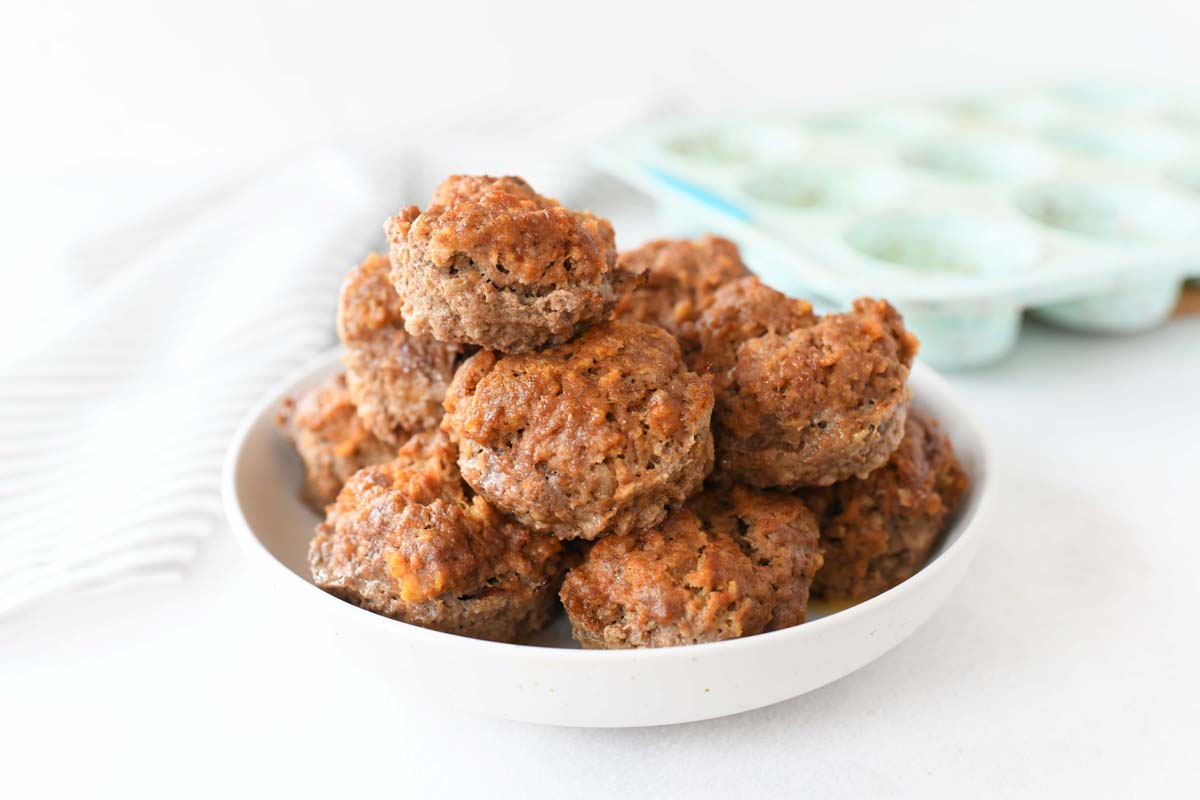 Recipe
Follow the recipe below to make Muffin Tin Meatloaf. This recipe makes 12 Muffin Tin Meatloaves, but you can adjust the recipe card for other serving sizes.
Recipe
Muffin Tin Meatloaf
In this post, we'll show you how to make Muffin Tin Meatloaf. These perfectly portioned meatloaves are made with a blend of meat, pantry spices, and easy to find ingredients. Ready in 40 minutes from start to finish, your final meal will be a hit!
Equipment
conventional oven

Silicone 12-count muffin pan

large mixing bowl

wooden spoon

Food-safe gloves

ice cream scoop
Ingredients
1 ½

pounds

meatloaf mix

pre-packaged meat available at your grocer's meat counter.

1

large

egg

¼

cup

yellow mustard

½

cup

ketchup

2

tablespoons

Worcestershire sauce

1

cup

panko bread crumbs

2

tablespoons

minced onion

¼

teaspoon

black pepper

¼

teaspoon

sea salt

½

teaspoon

onion powder

½

teaspoon

garlic powder
Instructions
Add meat, and every ingredient listed to a large mixing bowl. Using gloved hands, combine until mixed.

Using an ice cream scoop, add meat to each muffin tin space. *see image in post.

Bake uncovered for 25 minutes.

Allow meat loaves to rest for 5 minutes before removing them from the pan. Allow excess grease to cool before discarding in the trash.

Serve warm with your choice of sides. Enjoy!
Notes
Nutritional values may vary and are meant to be a guide.
Nutrition
Serving:
1
cup
|
Calories:
159
cal
|
Carbohydrates:
7
g
|
Protein:
14
g
|
Fat:
9
g
|
Saturated Fat:
3
g
|
Trans Fat:
1
g
|
Cholesterol:
55
mg
|
Sodium:
308
mg
|
Potassium:
80
mg
|
Fiber:
1
g
|
Sugar:
3
g
|
Vitamin A:
80
IU
|
Vitamin C:
1
mg
|
Calcium:
20
mg
|
Iron:
2
mg