In this post, we'll show you how to make Cheeseburger Cups in a muffin tin. Buttery, crescent dough is stuffed with all the typical fixings of a cheeseburger, and baked until golden-brown in a muffin tin.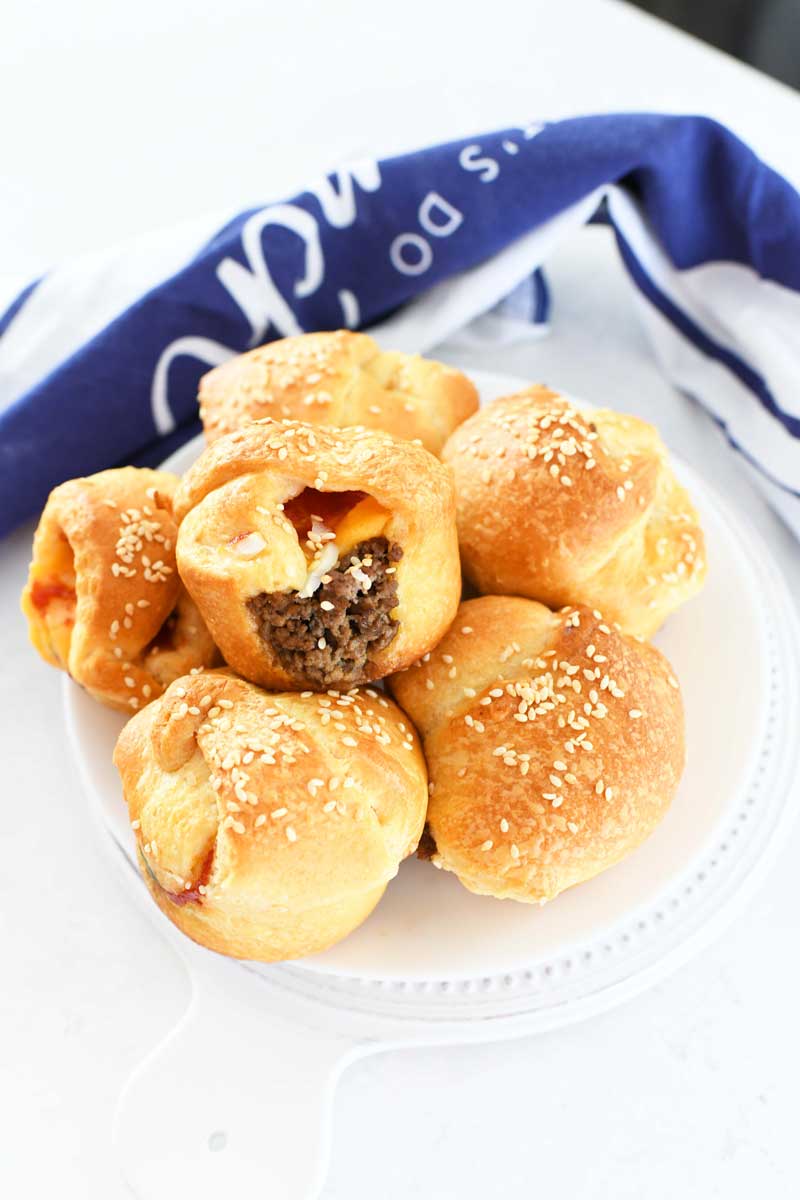 If you love cheeseburgers as much as we do, this recipe is for you! My kids love burgers on the grill, but sometimes the weather doesn't permit it! With these oven-baked cheeseburgers, you get all the flavors you love wrapped into a delicious bun and they're bite-size!
Ingredients
Before starting this recipe, you'll want to verify that you have the following ingredients:
Crescent Dough - We used the Grands! XL Crescent Dough tube which is 12-ounces of dough versus the standard 8-ounces of dough. This larger size product held up nicely when stuffed with the cheeseburger fillings.
Seasoned Beef - You'll need just ½ lb. of seasoned ground beef. I used salt & pepper to season and drained any excess fat from 80/20 beef.
Cheddar cheese - A block of yellow cheddar cut into cubes works perfectly.
Onion - We didn't want to overpower these bites so we used just a little freshly minced yellow onion for flavor.
Pickles - Dill pickle chips adds the classic burger flavor to these.
Ketchup - If you love this condiment it makes for a perfect combo.
Yellow mustard - Another classic condiment that makes these taste delicious.
Sesame seeds - Adds the perfect touch to these crescent bites.
Equipment and Supplies Needed
We used the following equipment and supplies to make this recipe. Items that are optional or can be substituted will be noted.
Skillet - This is a must to cook your ground beef.
Spatula - Needed to cook ground beef in your pan. A heat-safe plastic variety is better than a metal one which can scrape pans.
Slotted spoon - This can be used to remove ground beef from your pan. You do not want all that excess grease. A heat-safe plastic variety is better than a metal one which can scrape pans.
Tin can - Never drain grease down the drain. This is harmful to your pipes and sewage. A tin can is safe and will not break or catch fire.
Muffin tin - Depending on how many you plan on making, you will need one standard-sized pan and will have extra spaces on it.
Cutting board - This is needed to mince your onion.
Chef's knife - Needed to chop/dice your vegetables and herbs.
Spoon - A large spoon(s) will help you nicely scoop ingredients into your crescent rolls.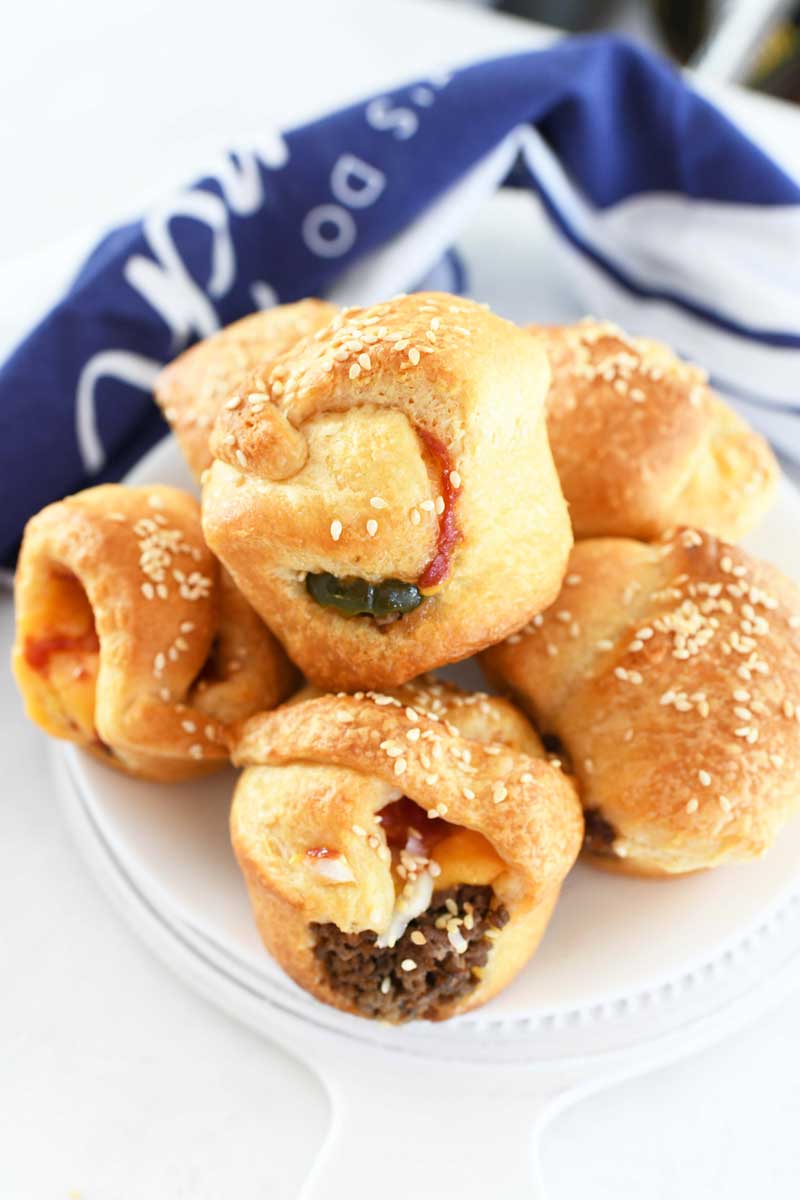 Recipe Tips
This recipe is easy to make if you know the right tips and tricks! Here are my tips for ensuring your Crescent Dough Cheeseburgers come out perfectly.
Keep Crescent Dough Chilled
When Crescent roll dough starts to warm up, it begins to rise and gets sticky. Therefore, keep it in the refrigerator until you're ready to work with it. Only unwrap it once all your toppings are ready to go.
Cheese
Block cheese in 1-inch cubes works best for these bites. You can use any cheese variety you prefer. If you do not have block cheese, you can fold a square of American cheese in 4 and use that. Alternatively, 1 tablespoon of shredded cheese can also be used in these bites.
Storage
Crescent Dough Cheeseburger Cups can be stored refrigerated or frozen. Just follow these easy steps.
To store them in the refrigerator, simply wrap them in plastic wrap or store them in an airtight container. Place them in the refrigerator and store them for up to 3 days.
Refrigerated bites can be reheated in the microwave for 30 – 45 seconds per bite. Alternatively, you can reheat them in a toaster oven, or conventional oven (on a baking sheet) at 350°F for 3-5 minutes.
Freezer
To store them frozen, simply wrap them tightly in plastic wrap or place them inside a zippered freezer bag. Remove as much air as possible from the bag. Place them in the freezer and store them for up to 3 months. If you have a FoodSaver this would be ideal to store these.
Frozen bites can be reheated in the microwave for about 90 seconds per bite. Alternatively, you can reheat them in a toaster oven, or conventional oven (on a baking sheet) at 350°F for 7-10 minutes.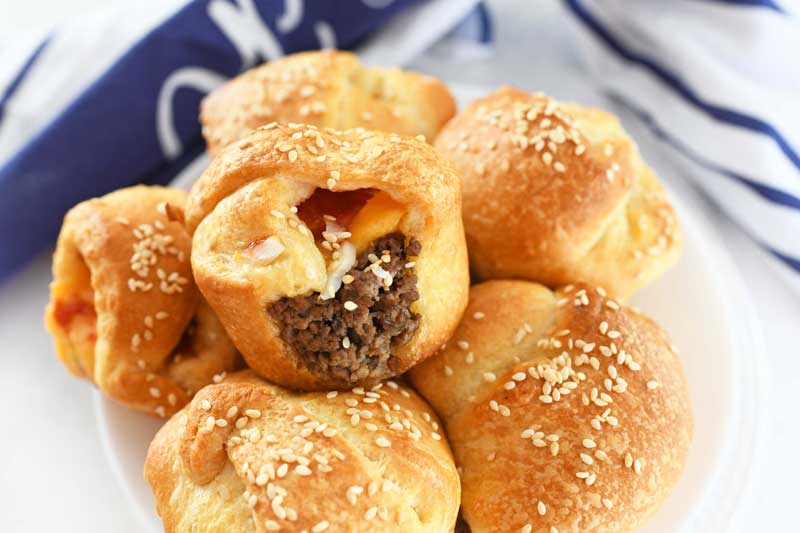 Recipe
Follow the recipe below to make Cheeseburger Cups! This recipe makes 8 servings, but you can adjust the recipe card for other serving sizes.
Recipe
Crescent Dough Cheeseburger Cups
Cheeseburger Cups are made with crescent dough and oven-baked in a muffin tin. These bite-size cheeseburgers are stuffed with all the best fixings like pickles, onions, ketchup, and mustard.
Equipment
12-count standard size muffin tin

skillet

spatula

slotted spoon

tin can (to collect drained grease from the ground beef)

cutting board

knife

spoon
Ingredients
1

tube

crescent rolls

extra large size

½

lb.

80/20 ground beef

seasoned, cooked, and drained.

4

ounces

cheddar

cubed

8

pickle chips

2

tbsps.

minced onion

2

tbsps.

ketchup

2

tbsps.

mustard

1

tbsp.

sesame seeds
Instructions
In a skillet on medium-high heat, cook the ground beef with seasonings. (We used salt and pepper.) Make sure to drain any excess grease, and set it aside.

Prep all the toppings so they are ready to distribute.

Unwrap the crescent roll tube and separate the triangles.

Add one triangle to each muffin cavity and press it down to make space for filling.

Fill each with an even amount of meat, cheese, onion, pickle, and condiments.

Fold over the triangle to seal the top. It is okay if there are open spots because the dough will rise and fill them up.

Sprinkle each with sesame seeds.

Bake for 15-17 minutes. Cheeseburger Bombs will be a deep golden brown color and will feel firm and not doughy when done.
Notes
Nutritional values may vary and are meant to be a guide.
How to Freeze
To freeze, allow the cups to fully bake and cool. Once they are cooled, add them to an airtight freezer bag or a vacuum sealer and remove any excess air. Write the date you made them on the bag and the best buy date that is up to 30 days out.
How to Reheat
To reheat, allow cups to thaw and place them in a toaster oven to crisp them up and reheat them throughout. The times may vary so keep an eye on them. Of course, you could also microwave them but they might be a little soggy.
Nutrition
Serving:
1
cup
|
Calories:
259
cal
|
Carbohydrates:
16
g
|
Protein:
10
g
|
Fat:
18
g
|
Saturated Fat:
8
g
|
Cholesterol:
35
mg
|
Sodium:
468
mg
|
Potassium:
159
mg
|
Fiber:
1
g
|
Sugar:
4
g
|
Vitamin A:
174
IU
|
Vitamin C:
1
mg
|
Calcium:
145
mg
|
Iron:
1
mg