In this post, we'll show you how to make Wonton Tacos. These crispy and crunchy taco cups are made with wonton wrappers that are baked in a muffin tin. They are then filled with taco favorites like seasoned beef, cheese, tomato, olives, and sour cream.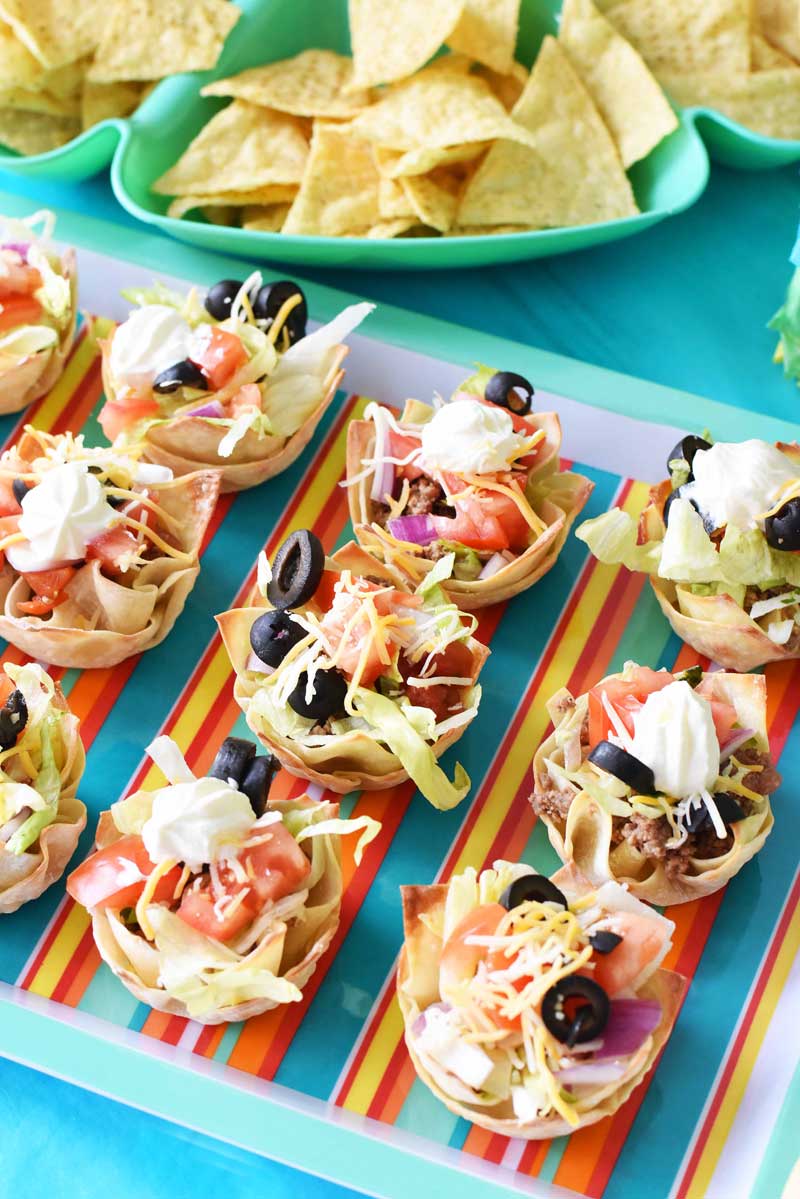 If you love tacos, you'll love these bite-sized, crunchy taco cups. They are so easy to make and are sure to make your family smile. We love how they can make lunch and dinner time fun for our kids. These mini tacos are also ideal for game days, or enjoyed as quick appetizers!
Ingredients
Before starting this recipe, you'll want to verify that you have the following ingredients:
Ground beef - We typically use 80/20 ground beef because it is the least expensive, and most flavorful. It holds flavor, and seasoning, but can be really greasy. Be sure to drain any excess grease into a tin can once your stove is off. Or, use a slotted spatula to remove only the seasoned beef.
Taco seasoning blend - Using a packet of taco seasoning, or a jarred blend is our go-to for this quick recipe.
Cheese - Shredded Mexican blend provides a nice flavor, but you can stick with plain cheddar if you wish.
Vegetables - chopped lettuce, are taco musts and add a pop of color and flavor to your taco cups.
Olives - Black, sliced olives work well for this, and are totally optional. We love black olives so we used them.
Garnish - Chopped cilantro or green onion add a nice flavor and color to these, but are optional.
Equipment and Supplies Needed
We used the following equipment and supplies to make this recipe. Items that are optional or can be substituted will be noted.
Skillet - This is a must to cook your ground beef.
Spatula - Needed to cook ground beef in your pan. A heat-safe plastic variety is better than a metal one which can scrape pans.
Slotted spoon - This can be used to remove ground beef from your pan. You do not want all that excess grease. A heat-safe plastic variety is better than a metal one which can scrape pans.
Tin can - Never drain grease down the drain. This is harmful to your pipes and sewage. A tin can is safe and will not break or catch fire.
Muffin tin - Depending on how many you plan on making, you will likely need two 12-count standard sized muffin tins.
Cutting board - This is needed to chop any vegetables.
Chef's knife - Needed to chop/dice your vegetables and herbs.
Spoon - A large spoon(s) will help you nicely scoop ingredients into your crisp wontons.
Recipe Tips
This recipe is easy to make if you know the right tips and tricks! Here are my tips for ensuring your crunchy Wonton Taco Cups come out perfectly.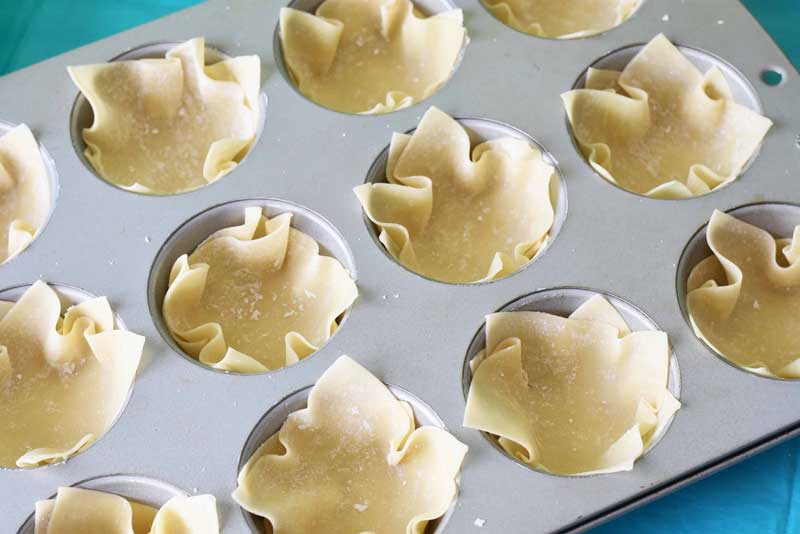 Wonton Shells
The wonton shells are first baked while empty. Prebaking the shells enhances the crunch and will better support your meat, cheese, and veggies better.
I have made this recipe both with a single layer of wonton wrappers and with a double layer. Since these are stuffed with a lot of filling, I suggest doubling-up on the wonton wrappers for extra strength.
If you have olive oil cooking spray, you can spray some of it directly on the wonton shells before baking. It's is a convenient way to get just the right amount of oil on each shell without having to individually brush each cup.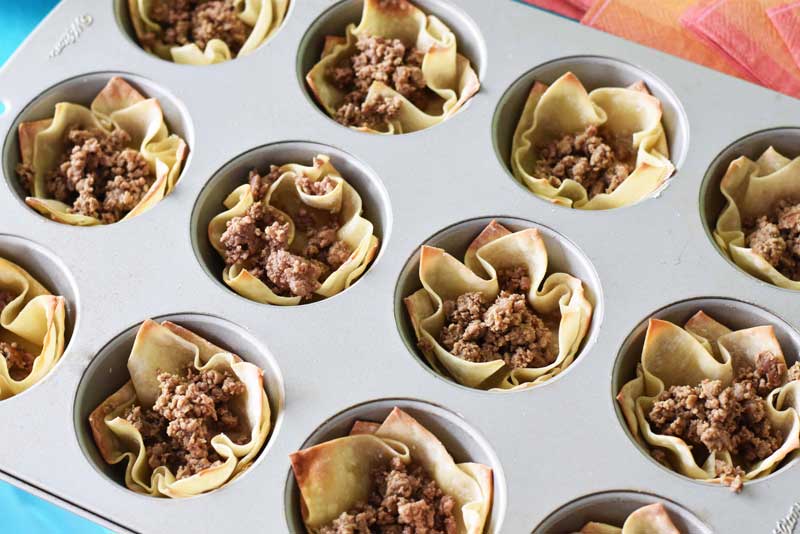 Protein
If you want to use another protein, feel free to substitute the ground beef with the following options that will also taste good with taco seasoning. Additionally, you could simply fill these cups with beans and the non-meat filling listed in the recipe card.
Ground turkey
Ground chicken
Ground pork
Ground sausage
Ground venison/bison
Tofu
Plant-based meat substitutes
Storage
If you want to store your Taco Wontons, just follow these easy steps.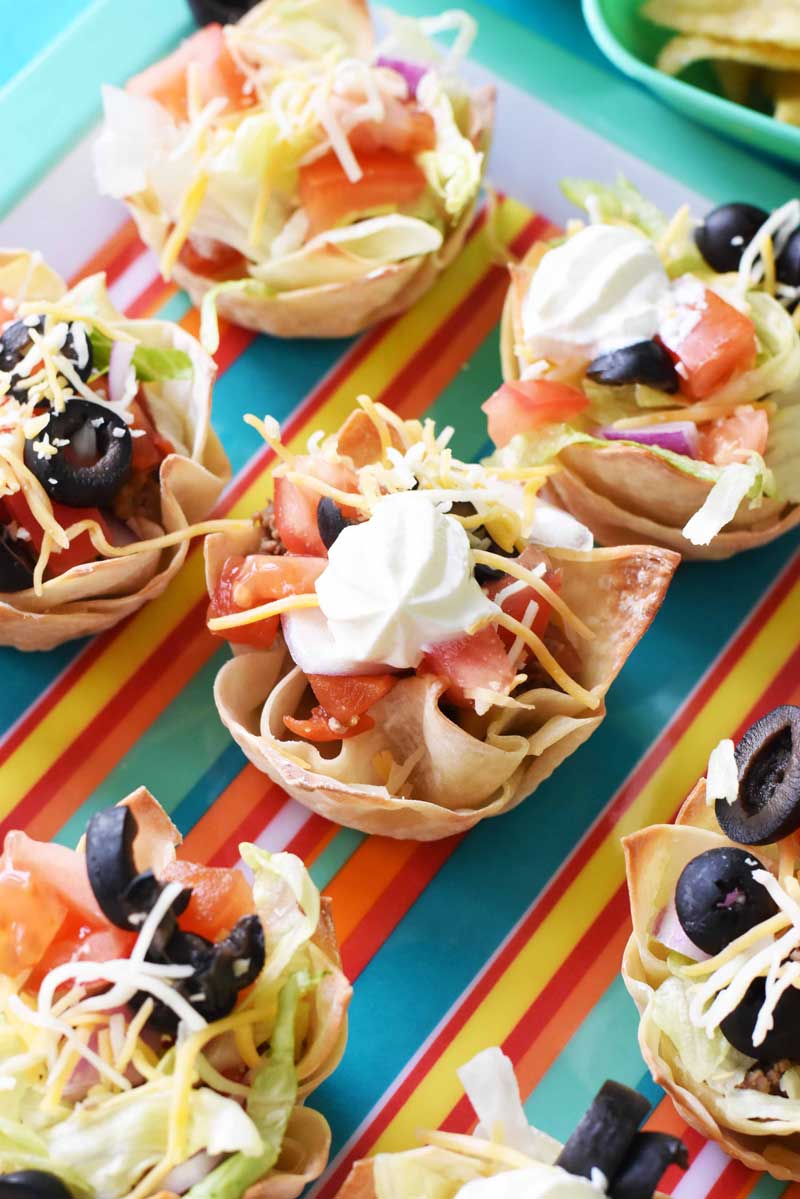 Best Option
If you plan on having leftovers, you should simply pre-bake the cups and keep them in an air-tight container until you are ready to fill them. This keeps everything crisp. Pre-bake cups according to the recipe instructions. When you are ready to fill them, add them back to the muffin tins, fill and bake again according to the instructions in the recipe card.
Refrigerator
To store the cups in the refrigerator, simply wrap them in plastic wrap or store them in an airtight container. Place them in the refrigerator and store them for up to 24 hours.
Refrigerated bites can be reheated in the microwave for 30 – 45 seconds per bite. For best taste and texture, you can reheat them in a toaster oven, or conventional oven (on a baking sheet) at 350°F for 3-5 minutes.
At this time, we cannot share if these freeze well because we haven't tested it.
Recipe
Follow the recipe below to make Wonton Tacos! This recipe makes 24 cups, but you can adjust the recipe card for other serving sizes.
Recipe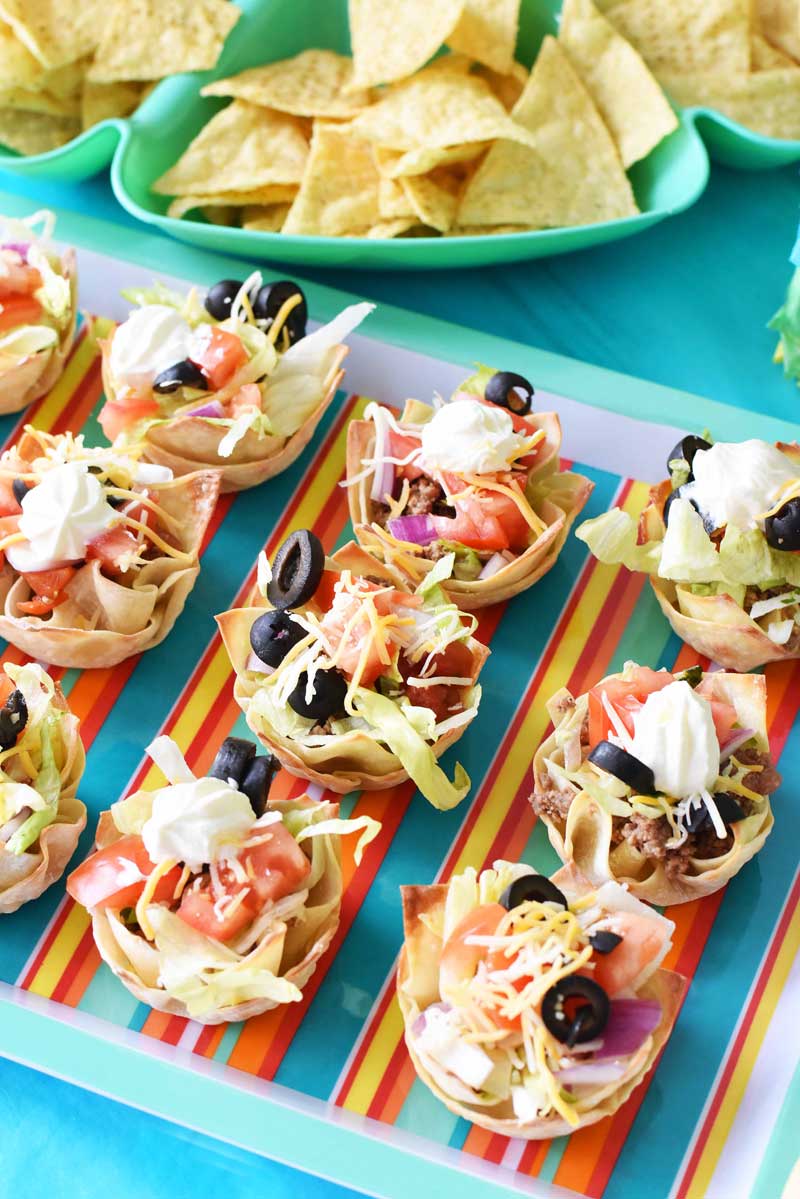 Print
Muffin Tin Wonton Taco Cups
Wonton Taco Cups are an awesome party food idea or appetizer! These crispy and crunchy cups are made with wonton wrappers that are baked in a muffin tin. They are then filled with taco favorites like seasoned beef, cheese, tomato, olives, and sour cream.
Equipment
12-count standard size muffin tin (X2)

conventional oven

skillet

tin can (or similar type container to collect grease)

cutting board

knife

slotted spoon

spatula
Ingredients
48

wonton wrappers

1

tablespoon

olive oil

spray

1

lb

80/20 ground beef

2

tablespoon

taco seasoning

¼

cup

red onion

diced

¾

cup

tomatoes

diced

¼

cup

black olives

1

cup

shredded lettuce

⅓

cup

sour cream

½Ø

cup

shredded cheddar
Instructions
Add ground beef & taco seasoning to a skillet, and cook the beef on medium-high heat until it browns.

Drain excess grease from pan.

Set beef aside and preheat oven to 350°F.

Add wonton wrappers (2 each) to muf°fin tins. You might have to do two rounds depending on your oven capacity.

Spray (or brush) the wonton wrappers with olive oil spray.

Bake the empty wrappera for 8 minutes on the center rack. Repeat another batch if needed.

Chop all your veggies and prepare toppings.

Add the seasoned meat, cheese, and toppings to the cups. Enjoy!
Notes
Optional Heated Meat and Cheese
You can also warm the meat and melt the cheese. To do this, add wontons to a baking sheet. Fill with meat and cheese and bake for an additional 2-3 minutes in a preheated 350 degrees Fahrenheit oven.
Nutrition
Serving:
1
cup
|
Calories:
116
cal
|
Carbohydrates:
9
g
|
Protein:
5
g
|
Fat:
6
g
|
Saturated Fat:
2
g
|
Trans Fat:
1
g
|
Cholesterol:
19
mg
|
Sodium:
155
mg
|
Potassium:
84
mg
|
Fiber:
1
g
|
Sugar:
1
g
|
Vitamin A:
109
IU
|
Vitamin C:
1
mg
|
Calcium:
33
mg
|
Iron:
1
mg