If you're looking for a delicious Muffin Tin Cheesecake, you've come to the right place! These Mini Cheesecakes are sweet, delicate, and creamy. Plus, the vanilla wafer crust adds a delectable texture you'll soon not forget.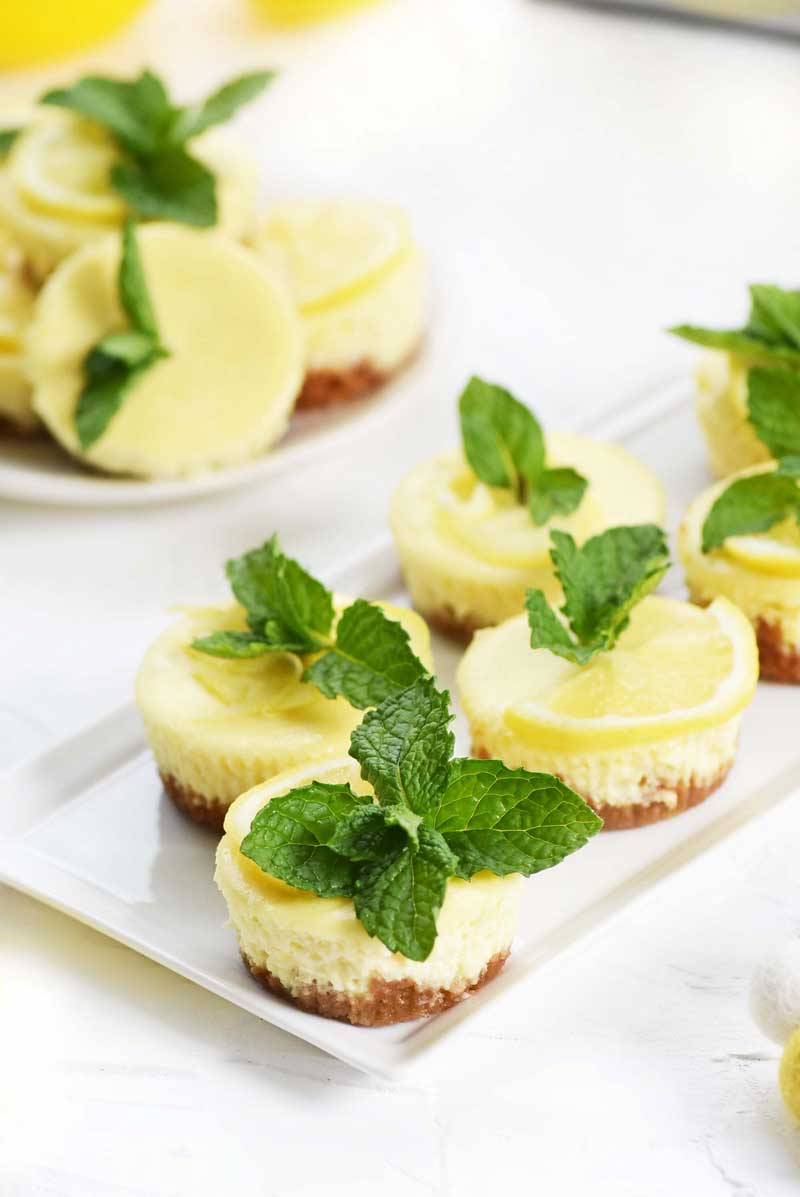 Mini Cheesecakes made in a muffin tin are a perfect dessert for parties or special occasions. This recipe makes 12 mini cheesecakes, which matches the count of a standard size muffin pan. However, you can easy double or triple the recipe to make even more!
Ingredients and Supplies
Before starting this recipe, you'll want to verify that you have the following ingredients and supplies:
Cheesecakes:
Cream cheese - You will need two, 8-ounce bricks of full-fat cream cheese for this recipe. The most important tip is that they must be at room temperature.
Egg - These mini cheesecakes require just one large egg also at room temperature.
Egg Yolk - You will need one egg yolk in addition to your whole egg.
Granulated Sugar -
Lemon zest - a little goes a long way but gives these cheesecakes a delicious flavor.
Lemon juice - This provides a nice depth of lemon flavor to your batter.
Vanilla extract - Provides flavor. You can use just vanilla to flavor your cheesecake, but should double the amount if you are not making your mini cheesecakes lemon- flavored.
Vanilla Wafer Crust:
Vanilla wafers - These are the base of the crust. You can use an off brand, or the name brand Nilla Wafers.
Butter - Be sure to use melted, unsalted butter which will help to bind your crust ingredients.
Cinnamon - Adds a nice flavor to the crushed vanilla cookies.
Granulated sugar - This helps to sweeten the cookie crust.
Supplies:
12-Count Muffin Tin - To cook your cheesecakes in.
cupcake liners - These help them stay neat in the pan, and make removal easy.
baking spray - Recommended to spray the cupcake liners with baking spray so the cooled cheesecake easily lifts off the paper.
electric Mixer - Needed to get your room temperature batter whipped up to a creamy consistency.
ice cream scoop - to fill the batter into the muffin tin liners.
rubber spatula - To scrape down the bowl and get every last bit of batter.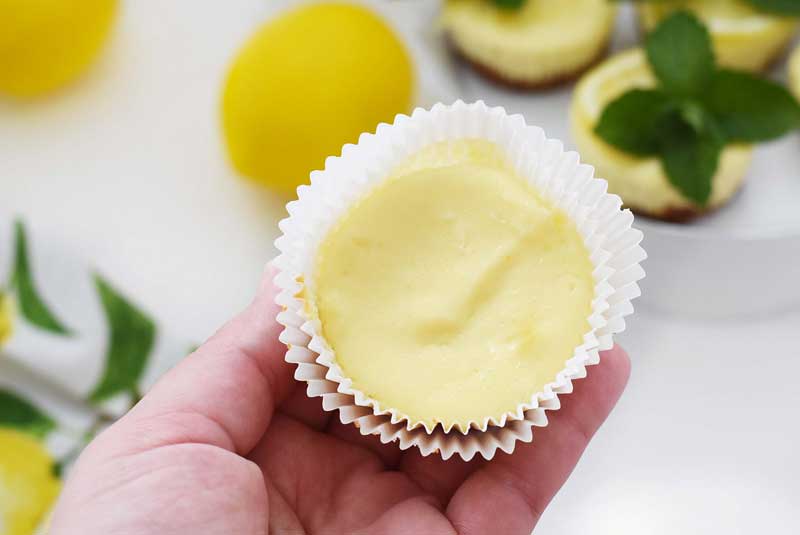 Recipe Tips
This recipe is easy to make if you know the right tips and tricks! Here are my tips for ensuring your Mini Cheesecakes and Vanilla Wafer crust come out perfectly.
Use Room Temperature Ingredients
Whenever making cheesecake from scratch, it's important to use room temperature ingredients. This will ensure that your final product comes out smooth and creamy. If you use cold cream cheese and/or eggs, the batter won't mix properly and your cheesecake will be lumpy.
Leave the eggs and cream cheese on the countertop for about 1 hour before starting this recipe.
How To Prevent Cracking
Mini cheesecakes should not crack like a full-size cheesecake will if it's cooled too quickly.
How To Prevent Sinking
Have you ever made cheesecakes that sunk after you removed them from the oven? This can be caused by a number of issues.
In general, make sure you follow our tip above about using room temperature ingredients. This can cause the cheesecake to sink due to inconsistent distribution of the batter ingredients.
Also, be sure to mix the ingredients - not whip them. Over mixing or whipping the ingredients can cause the cheesecake to sink in the middle after baking.
You want to make sure you thoroughly mix the ingredients on medium speed just until they're creamy and fully combined.
Storage
If you're making muffin tin mini cheesecakes ahead of time, you'll need to store them properly. Depending on how long you plan to store them, you have two options - refrigerator storage or freezer storage:
Refrigerator
After baking, mini cheesecakes should be cooled to room temperature and then chilled in the refrigerator for a minimum of 3 hours. If you're going to serve them the next day, you can store them in the refrigerator overnight.
Leftovers can be stored in the refrigerator for about 5 - 7 days. Although these are so good, I doubt they'll be around that long regardless!
Freezer
Mini cheesecakes can be stored frozen by wrapping them tightly in plastic to remove as much air as possible. Place them in the freezer and store them for up to 3 months. They should be stored without the topping applied.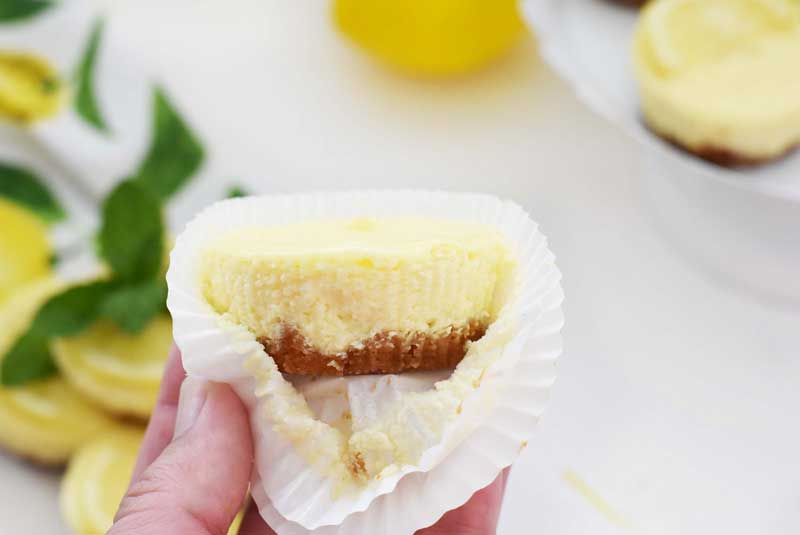 Recipe
Follow the recipe below to make these amazing Mini Cheesecakes with Vanilla Wafers Crust in a muffin tin. This recipe makes 12 mini cheesecakes but can be adjusted as needed.
Recipe
Muffin Tin Cheesecakes with Vanilla Wafer Crust
These Mini Cheesecakes are a delicious, bite-sized dessert baked in a muffin tin. They're made with Vanilla Wafers, fresh lemon, and topped with mint. If you are a cheesecake lover, you will love the delicate texture and addicting flavor of these treats.
Equipment
standard 12-count muffin tin

baking spray

cupcake liners

oven

large mixing bowl

electric mixer (hand or stand)

rubber spatula

ice cream scoop
Ingredients
Cheesecake Batter
16

ounces

cream cheese

at room temperature

1

large

egg

at room temperature

1

large

egg yolk

at room temperature

½

cup

white sugar

½

teaspoon

lemon zest

optional

3

tablespoon

lemon juice

optional

1

teaspoon

vanilla extract

double to 2 teaspoon if you're not using lemon
Vanilla Wafer Crust
1

cup

vanilla wafers

crushed

3

tablespoon

unsalted butter

melted

¼

teaspoon

cinnamon

2

tablespoons

white sugar
Instructions
Vanilla Wafer Crust
Preheat the oven to 325°F

Line the 12-count muffin tin with double liners.

Lightly spray the liners with non-stick spray.

Add the vanilla wafers, 2 tablespoons sugar, and cinnamon to a large bowl and crush them until fine.

Add the melted butter to the mixture.

Mix the crust mixture thoroughly until all crumbs are moist.

Equally divide the crust mixture into 12 and press it into the bottom of each cup.

Add to the oven and bake for 5 minutes at 325°F.

Remove from oven and set on top of stove until batter is ready.
Cheesecake Batter
Add the cream cheese to a large bowl and beat with a mixer until smooth.

Mix in 1 egg, 1 egg yolk, vanilla extract, lemon juice, lemon zest, and ½ cup sugar to the bowl. Continue to mix until smooth and creamy.

Add the batter to the top of the baked crusts inside the muffin tin. The batter should fill the cups almost to the top.

Add ½ cup of water to a baking sheet. Place the muffin tin on the baking sheet and place in the oven.

Bake for 30 - 35 minutes or until a toothpick inserted into the center of a cheesecake comes out clean.

Allow to cool for at least 1 hour at room temperature. For best results chill in refrigerator for 3 hours before serving.

Garnish with fresh fruit, mint, or berries (optional)
Notes
Nutrition facts are a guide and may vary.
Nutrition
Serving:
1
g
|
Calories:
249
cal
|
Carbohydrates:
19
g
|
Protein:
3
g
|
Fat:
18
g
|
Saturated Fat:
10
g
|
Trans Fat:
1
g
|
Cholesterol:
80
mg
|
Sodium:
165
mg
|
Potassium:
73
mg
|
Fiber:
1
g
|
Sugar:
15
g
|
Vitamin A:
638
IU
|
Vitamin C:
2
mg
|
Calcium:
43
mg
|
Iron:
1
mg