This post is a real special treat! We give you a recipe to make delicious Pepperoni Pizza Dip plus a fun and easy way to eat it! We call them Pepperoni Pizza Dip Bites!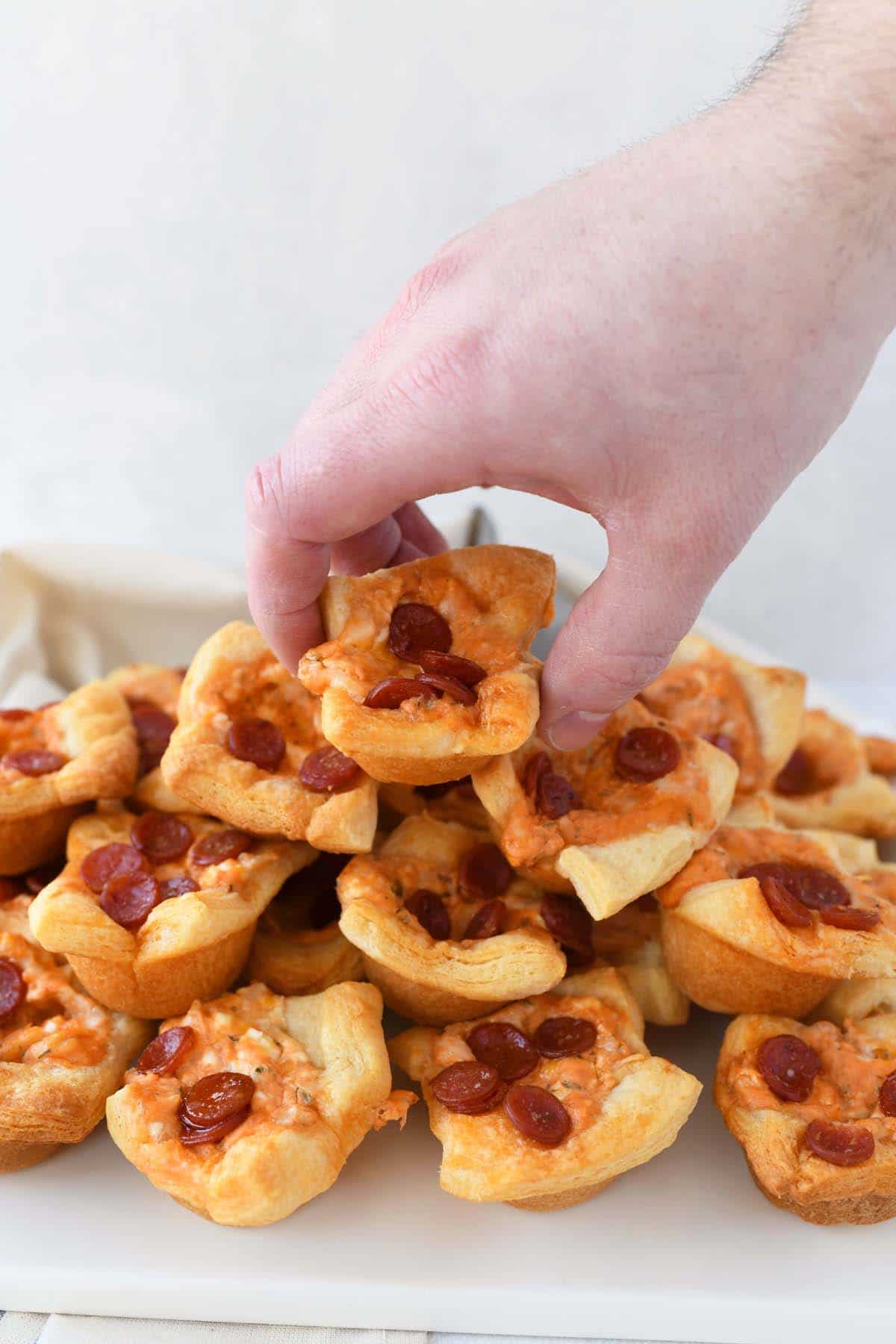 Ever have trouble deciding what to dip into pizza dip? We just solved that problem! Pizza Dip Bites take the dip and bake it right into crescent dough cups for the perfect appetizer!
Ingredients
Before starting this recipe, you'll want to verify that you have the following ingredients:
Crescent dough (2 cans)
Cream cheese
Sour cream
Parmesan cheese
Shredded pizza cheese
Marinara sauce
Italian herbs
Mini pepperoni (Can be omitted if desired)
Equipment and Supplies Needed
We used the following equipment and supplies to make this recipe. Items that are optional or can be substituted will be noted.
24-count mini muffin tin
Medium or Large mixing bowl
Mixing spoon
Cookie scoop or Tablespoon
Cutting board
Knife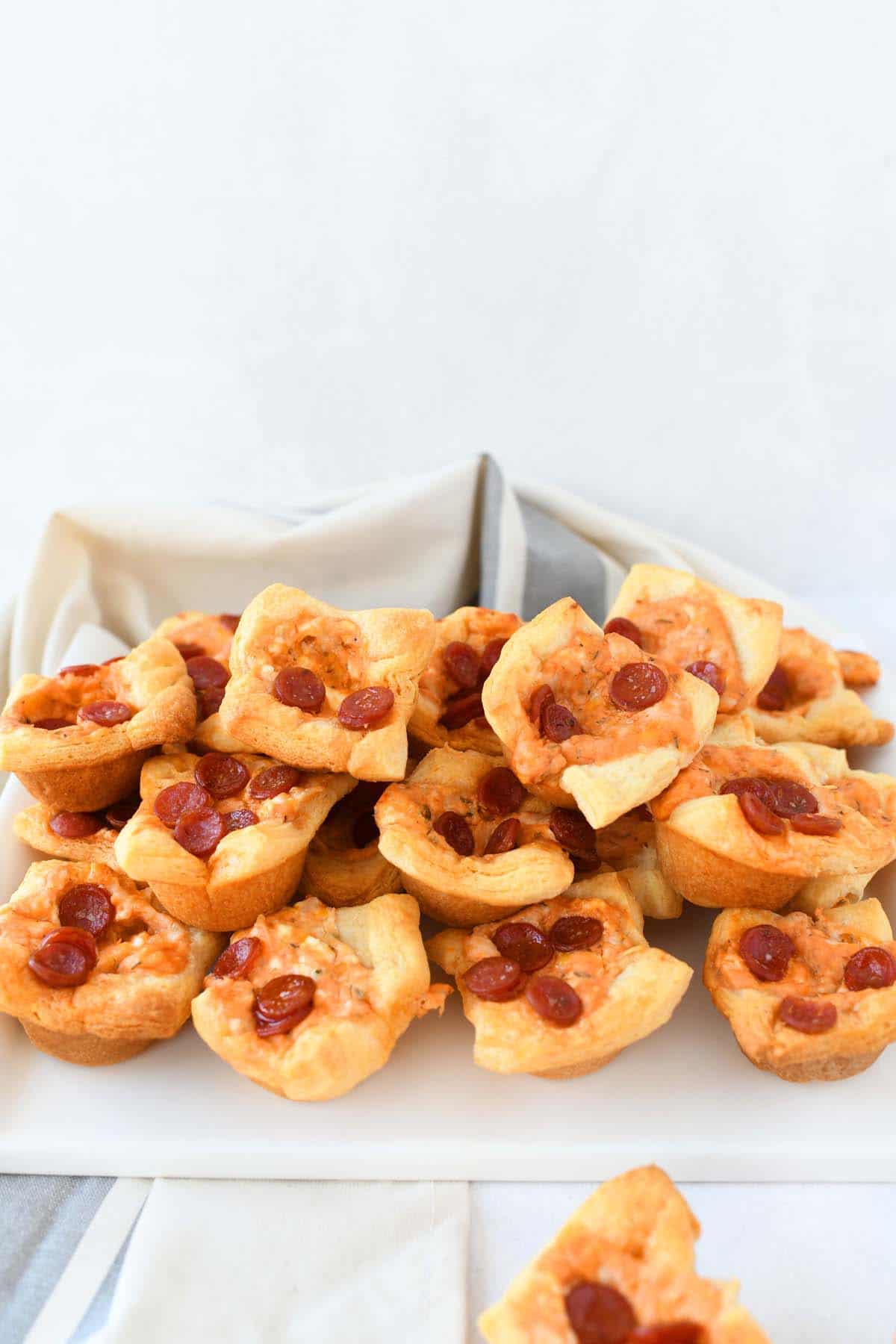 Recipe Notes
This recipe is easy to make if you know the right tips and tricks! Here are my notes for ensuring your Pizza Dip Bites come out perfectly.
Add Non-Stick to Muffin Pan
Grease the muffin tin with non-stick spray to prevent the food from sticking. It will also make cleanup go a lot smoother.
Cream Cheese Temperature
Before starting this recipe, allow your cream cheese to sit at room temperature for a while to warm. Let it sit for 1 - 3 hours, longer is better.
This will make it much easier to mix it with the other ingredients to a smooth consistency.
Additional Tip: If you're short on time and can't wait 1-3 hours for the cream cheese to warm at room temperature.
Place it in a microwave-safe bowl and microwave on high in 5-second increments until it's soft enough to easily spread. Be careful to not overheat it though!
Crescent Dough Temperature
Keep the Crescent dough chilled inside the refrigerator until your ready to cut it and place it into the muffin tin.
When the dough gets warm, it becomes sticky and will start to rise. This makes it harder to work with and it makes it messy!
Muffin Tin
This recipe is made using a mini muffin pan. If you don't own a mini muffin tin (and don't want to buy one) you can make use a standard size pan.
The Crescent dough squares will need to be larger. Instead of cutting the sheets into 6 columns and 5 rows, you'll need to cut them into 4 columns and 3 rows to make 12 squares.
In addition, the baking time might need to be increased by a couple of minutes. Keep a close eye on the bites as they bake.
Storage
Pizza Dip Bites taste best when served warm. However, If you want to store your bites, just follow these easy steps.
Freezing
Allow to fully cool after baking.
Place the bites into an airtight freezer bag.
Place them into the freezer and store for up to 1 month.
Reheating
Remove frozen bites from the freezer and remove from the freezer bag.
Allow to thaw and bake them at 350°F for 3-5 minutes on the center oven rack until hot and bubbly.
Remove from the oven, allow to cool, and enjoy.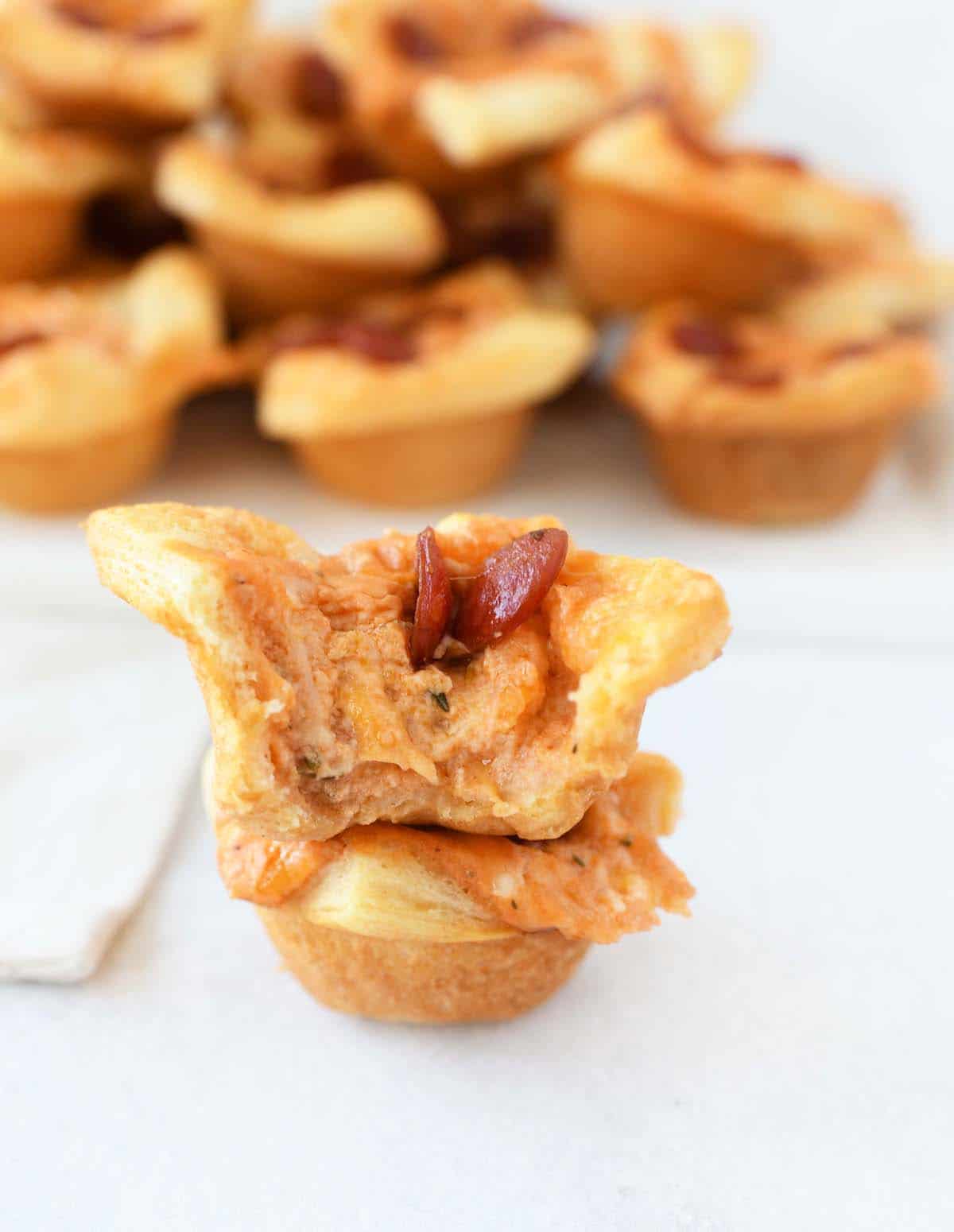 Recipe
Follow the recipe below to make Pepperoni Pizza Dip Bites! This recipe makes 24 Bites, but you can adjust the recipe card for other serving sizes.
Recipe
Easy Pepperoni Pizza Dip Bites
Ever have trouble deciding what to dip into pizza dip? Problem solved! Pizza Dip Bites take the dip and bake it right into crescent dough cups for the perfect appetizer! The best part is they're done in under 25 minutes!
They're made with cream cheese, sour cream, Parmesan cheese, pizza cheese, pepperoni, herbs, marinara sauce, and crescent dough.
Equipment
24-count mini muffin tin

large mixing bowl

mixing spoon

cookie scoop or tablespoon

cutting board

knife
Ingredients
14

ounces

crescent dough

1 ¾ rolls (2 cans)

4

ounces

cream cheese

4

ounces

sour cream

¼

cup

Parmesan cheese

1

cup

shredded pizza cheese

4

ounces

marinara sauce

1

teaspoon

Italian herbs

2

ounces

mini pepperoni
Instructions
Grease a 24-count mini muffin tin with nonstick spray.

To a large bowl, add the cream cheese, sour cream, spices, marinara, parmesan, and 1 cup of mozzarella cheese. Mix until fully combined.

Unroll 2 crescent dough sheets and lay them side-by-side. Pinch the two closest edges together to make 1 large sheet.

Cut dough into 6 columns with 5 rows to make 30 squares. (you will end up with some extra dough).

Line mini muffin tin spots with crescent dough squares.

Using a tablespoon cookie dough scooper, scoop one tablespoon of dip into each crescent dough space. Top each with mini pepperoni.

Bake for 13 minutes or until golden brown- serve warm!
Notes
Nutritional values may vary and are for reference only.
Nutrition
Serving:
2
bites
|
Calories:
115
cal
|
Carbohydrates:
7
g
|
Protein:
3
g
|
Fat:
9
g
|
Saturated Fat:
4
g
|
Cholesterol:
12
mg
|
Sodium:
241
mg
|
Potassium:
35
mg
|
Fiber:
1
g
|
Sugar:
2
g
|
Vitamin A:
121
IU
|
Vitamin C:
1
mg
|
Calcium:
34
mg
|
Iron:
1
mg